Dato/tid
27.02.2022
20:00 – 22:00
Sted
KoncertKirken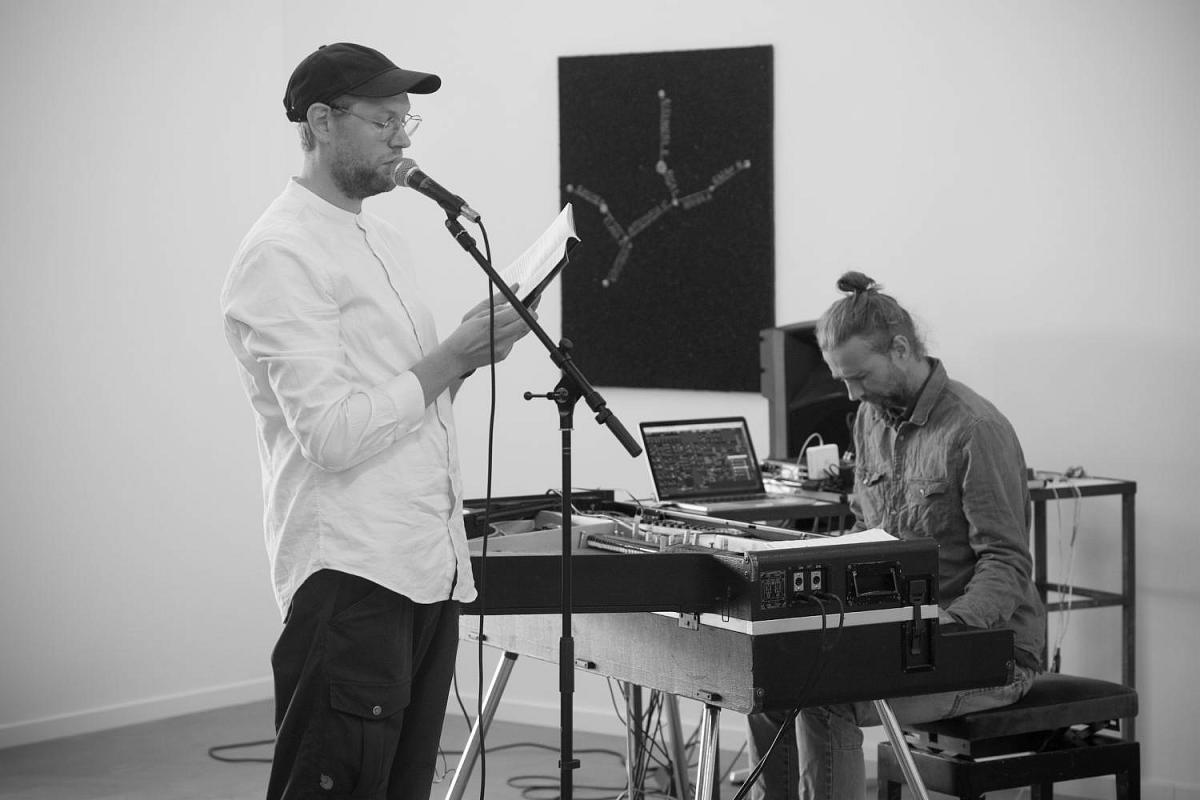 VINTERJAZZ @ KONCERTKIRKEN 2022
Peter-Clement Woetmann & Mikkel Almholt
Marcela Lucatelli: ANEW
---
Peter-Clement Woetmann – digt
Mikkel Almholt – klaver, elektronik
---
Peter-Clement Woetmann & Mikkel Almholt:
Woetmann/Almholt er et nyt samarbejde mellem digter og dramatiker Peter-Clement Woetmann og musiker Mikkel Almholt. Sammen har de lavet et albummet "Og ørkner i rasende udenfor", der spænder sig ud mellem det oplæste digt og modulerede klange fra en form for klaver. Albummet kredser om krigene, om de flygtende og om alle os, der er trygge i verden. Eller musikken og ordene synker sammen i det der punkt, hvor samtidens krise får klang eller klangen bliver fanget af den her verden som synker fra krise til krise…
Mikkel Almholt
er musiker. Hans musik er en form for lyd-mobiler i rummet, der drejer og drejer ind i sig selv. Han er også kendt under kunstnernavnet Ghost Flute & Dice.
Peter-Clement Woetmann
er digter, dramatiker og stifter af forlaget Kronstork. Han er optaget af, hvordan skriften/poesien kan arbejde med krigen og kriserne og samtidig længes mod valsetaktens gamle skønhed.
Tilsammen mødes de på dette album bestående af tæpper af ord, som står og slår til klaverets modulerede klange. Ny poesi. Ny musik. Ny afgrund.
www.ghostflutedice.com
www.peter-clement.net
www.ghostflutedice.bandcamp.com
---
Marcela Lucatelli – piano, vocals
---
Marcela Lucatelli can already be hailed as one of the most innovative vocalists and composers of her generation. Born in Brazil and based in Denmark, Marcela has earned international recognition for her extremely original, sensuous and politically charged performance works. The composer is known for writing "scores for the limits of bodies and voice" (The Wire). Her pieces are currently performed by vocal elite groups such as the Danish National Vocal Ensemble and Neue Vocalsolisten Stuttgart, together with some of the most edgy ensembles and music collectives in the world, such as Apartment House (UK), Bastard Assignments (UK) and Mocrep (US). Her works have been performed at Donaueschinger Musiktage, Darmstadt Internationale Ferienkurse für Neue Musik, A L'ARME! Festival, Nordic Music Days, SPOR Festival, KLANG – Copenhagen Avantgarde Music Festival, Copenhagen Jazz Festival, DMA Jazz – Danish Music Awards, Ultima – Oslo Contemporary Music Festival, Borealis Festival, Henie Onstad Art Center, AllEars Festival for Improvised Music, Reykjavik Arts Festival, Waverly Project NYU, FILE – Electronic Language International Festival, FITEI – Festival Internacional de Teatro de Expressão Ibérica, Festival Novas Frequências, WOMEX, among many other festivals and events worldwide. Lucatelli has been awarded the Carl Nielsen and Anne Marie Carl-Nielsen Foundation Talent Prize in Composition 2019 and Pelle Prize 2021, for a composer who dares to cross the norms of their time.
"With her capacity to draw out these complex characters and highlight their absurdities in only a few moments, the most fascinating thing about Lucatelli's new record is where it places structure, which sounds like a hopelessly technical reading but it is actually what makes it super exciting. Because these personas imply worlds within which they fit or don't, with systems of control and liberation and the narratives of lives lived well, or just lived in the face of no other options. On 'ANEW', Lucatelli has taken the computer programming manual as an artifact, like an anthropologist would, of the collective fictions we call our world. In turn, she has constructed her own sonic fiction from it. But in her retelling of the stories that constitute our day to day lives, we have failed to notice the absurdity of everything that bores and frustrates us. And as such we have not yet learned to grasp the intoxicating joy of following where that absurdity may lead." – Macon Holt.
---
TICKETS from 19.30 @ The Door: 100 DKK / Stud. 50 DKK
---
VINTERJAZZ @ KONCERTKIRKEN 2022 is supported by Statens Kunstfond, Københavns Kommune a.o.