Dato/tid
16.02.2022
20:00 – 22:00
Sted
KoncertKirken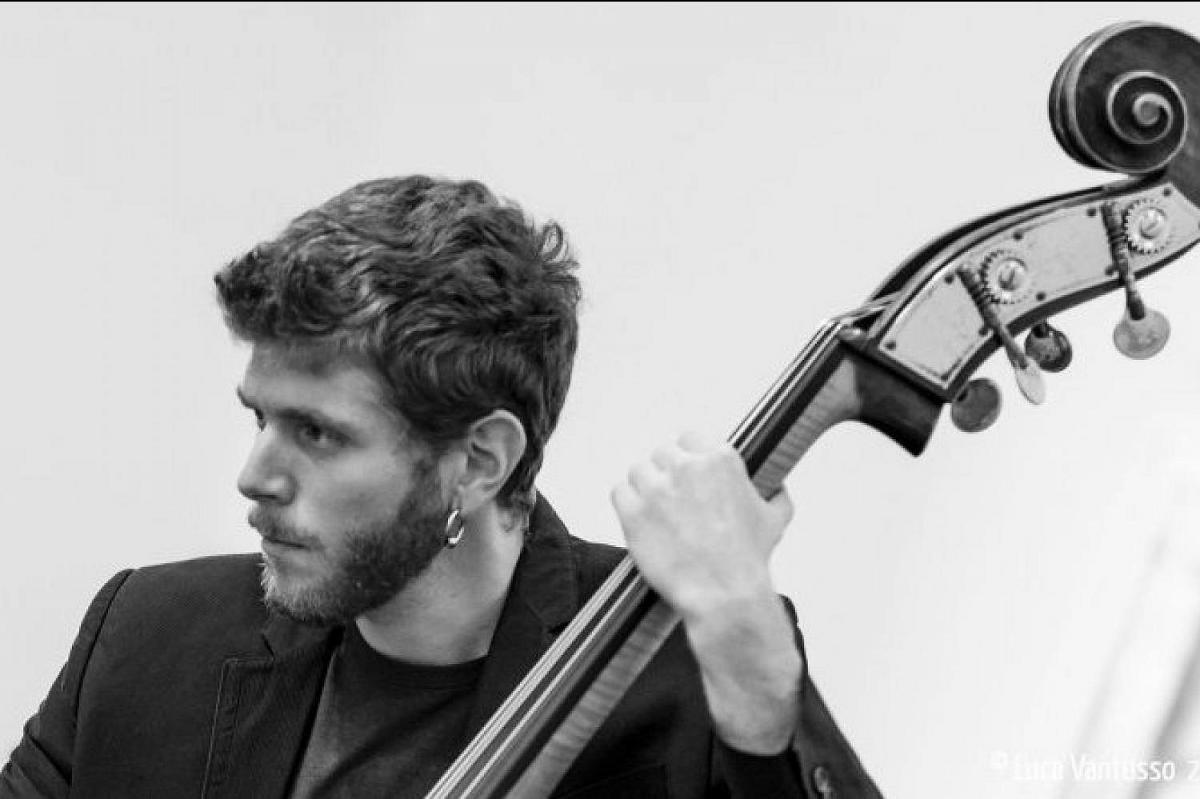 VINTERJAZZ @ KONCERTKIRKEN 2022
La BOMBA
Anna Lindal/Eva Lindal/Zoe Efstathiou
---
La BOMBA:
Luca Curcio: bas
Erik Kimestad: trompet
Simon Albertsen: trommer
Sölvi Kolbeinsson: saxofon
---
La BOMBA
is a new project led by Italian bassist Luca Curcio, active in Denmark since 2015 and now based between Berlin and Copenhagen.
He brought together two Norwegian mavericks well known on the Scandinavian creative scene: Erik Kimestad on trumpet and Simon Albertsen on drums, together with Icelandic saxophonist Sölvi Kolbeinsson, a former Berliner who has just moved to Copenhagen.
Unapologetic and explorative, La BOMBA deals with all the sounds Luca has been in contact with (trying to imagine what would have happened if Ornette Coleman's quartet had messed with '90s boom bap, polyrhythms, Mediterranean folk songs, club music, and they all had lived in Scandinavia for a few years).
The sound is acoustic, raw, and mixes contrapuntal melodies and hard hitting rhythms with sample-based electronics, dizzying synth bass lines and an in-your-face attitude.
---
Lindal/Lindal/Efstathiou:
Anna Lindal: violin
Eva Lindal: violin
Zoe Efstathiou: klaver
---
Comprised of two of Sweden's finest musicians and the Greek pianist Zoe Efstathiou, the trio explores the real time creation of sonic elements and objects through improvisation.
Eva Lindal studied at the Royal College of Music, Stockholm (1973-76), in Switzerland and in Banff (Canada). During 1986-2000 she was working in the Swedish Radio Symphony Orchestra. Currently, Eva is a freelance musician, focusing on Baroque, Contemporary and improvisational music.During 1986–2000 Eva was a member of the Swedish Radio Symphony Orchestra. Since then she has been a freelance musician, with a special focus on improvisation, and contemporary music, as well as the baroque era.
Anna Lindal studied in Sweden and Switzerland. From 1983 to 2001 concertmaster of the Royal Philharmonic Orchestra in Stockholm and from 2002 Professor of violin at the Royal college of Music in Stockholm. Currently a freelance violinist. Engaged in artistic research on interpretation/improvisation and tradition/convention versus contemporary expressions. Collaborates with a large number of contemporary composers and has had many new compositions dedicated to her.
Zoe Efstathiou is a composer and pianist from Greece. She has been characterized by the German newspaper der Freitag as "a master of the prepared piano," referring to her performance at A L'Arme Festival as "an improvisational masterpiece." She composes music for piano, piano and electronics, electroacoustic music and installation works and is performing regularly as an improviser. 
"Without a doubt a stand-out player who has cultivated a truly personal and inimitable language of prepared piano techniques," Tristan McCay on I CARE IF YOU LISTEN…
---
TICKETS from 19.30 @ The Door: 100 DKK / Stud. 50 DKK
---
VINTERJAZZ @ KONCERTKIRKEN 2022 is supported by Statens Kunstfond, Københavns Kommune a.o.