Dato/tid
10.02.2015
20:00 – 22:00
Sted
KoncertKirken
VINTERJAZZ
Jomi Massage/Katinka Fogh Vindelev/Otis Sandsjö/Luke Sutherland (dk/se/uk)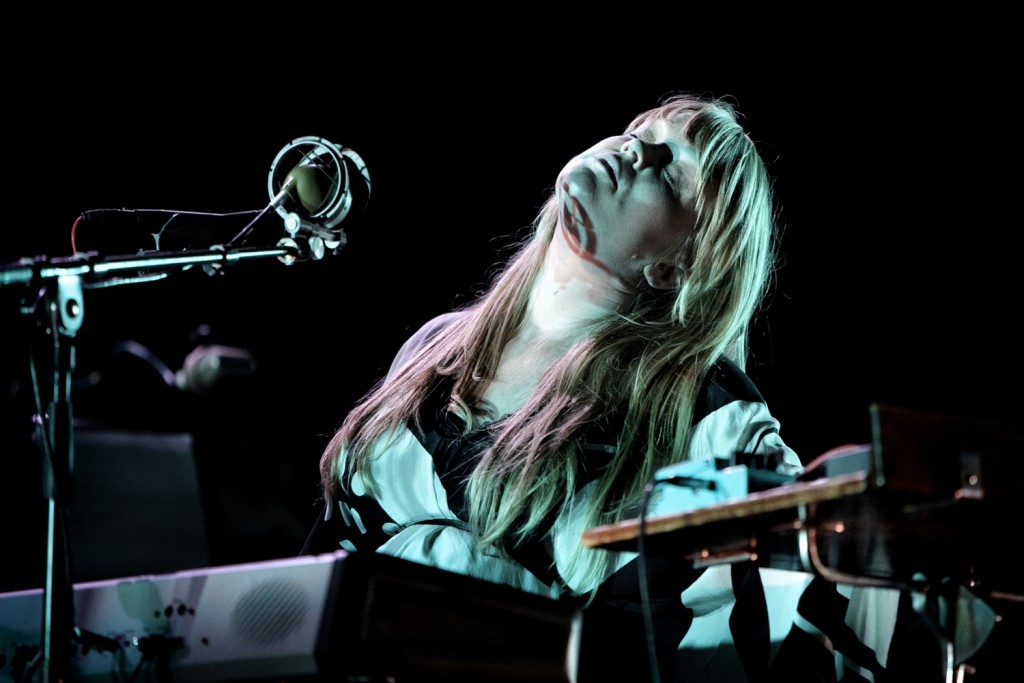 Jomi Massage – misc. instruments
Katinka Fogh Vindelev – voice
Otis Sandsjö – sax
Luke Sutherland – guitar mm
3 SET:
I Am NOW / Katinka og Otis
JOmi Massage / Jomi & Luke
Joint Impro / Katinka, Otis, Jomi & Luke
Jomi Massage is the danish lady, Signe Høirup Wille-Jørgensen, when she steps aside from her band Speaker Bite Me and acts on her own. The simplicity of Jomi Massage is to frame what is fragile and express what is violent. Jomi Massage invites her listeners to enter an urgent emotional sphere. Musical hints could be heroes like Laurie Anderson, Robert Wyatt early P.J. and always Patti. But then again Jomi finds herself surrounded by a Big Band or classical trained musicians and other wonderful weirdos. You have to decide for yourself. As the songs wanders…

http://www.thebeingmusic.com
http://www.jomimassage.dk
I AM NOW er den klassisk uddannede sanger Katinka Fogh Vindelevs første soloprojekt. Hun er kendt fra det eksperimenterende klangkollektiv We like We, der i november 2014, udgav debutalbummet: a new Age of Sensibility, på Jomi Massages selskab The Being Music. Katinka samarbejder ofte med kunstnere som Julia Holter, Efterklang, Jacob Kirkegaard og Sandra Boss og har for nylig uropført nyskrevne kompositioner af Birgitte Alsted og senest Karsten Fundal, som solist i orkester-, installations-koncerten Liquid Rooms med Odense Symfoniorkester. Hun er en alsidig sanger og komponist, i fri bevægelse mellem og på tværs af diverse genrebetegnelser. Hun jammer. I AM NOW, handler om nuets kraft, om vintage synthesizere, feedback, opera chanting akkompagneret af en løssluppen saxofon.
http://www.iamnow.dk
Otis Sandsjö är en svensk saxofonist baserad i Berlin, omnämnd för sin fysiska spelstil och sina energiska liveframträdanden. Han leder sin egen grupp otis sun och soloprojekt otiso samt är delad konstnärlig ledare för banden isabel sörling farvel och GOTHENBURG GADJOS. Han är aktiv i den europeiska improscenen och medlem i otaliga internationella grupper/projekt. Han arbetar även som performer och kompositör i sceniska projekt. Under hösten 2014 skapade han, tillsammans med den svenska/danska performancegruppen The Mob, föreställningen "Baby it's you, not me" på Dansehallerne i Köpenhamn. I föreställningen framträder han som sitt soloprojekt otiso, där han utforskar bräckligheten, begränsningarna/möjligheterna, dels med att framträda helt ensam, dels i själva sitt instrument, saxofonen. Han utarbetar även, i samarbete med den tyska arkitekten Nandini Oehlmann, ett rumsligt videoinstallationskoncept, 'otis sun – ett soniskt och visuellt rum' som en fast del av otis sun's liveframträdanden. Målet är att förtydliga och tolka den nutida improvisationsmusikens filmiska och berättande kvalitéer genom videons centrala roll i dagens kultur. Hans musikskapande har fortlöpande följt två tydliga riktningar, dels inom jazz/improvisationsmusiken, dels inom den romska musiken från Balkan/Turkiet. Han arbetar med att förena dessa tekniker och uttryck till den helhet som idag utgör hans konstnärskap.
Luke Sutherland (born 1971) is a Scottish novelist and musician. A full-time member of two independent bands and an occasional member of Mogwai, he has also published a number of written works. Sutherland was a main member of Scottish post-rock band Long Fin Killie, who were active from 1993 until 1998. He then formed Bows, the band releasing three albums. Since 2000, he has been an occasional and touring member of Mogwai, playing violin and more recently guitar. He also sings on and has a writing credit for the track "Mexican Grand Prix". Sutherland's debut novel, Jelly Roll, was nominated for the Whitbread Prize in the first novel category in 1998. His novella Venus As A Boy (2004) talks extensively about Sutherland's own childhood in Orkney, where he was the sole Scots-African.
Entré: 60 kr.
Støttet af Statens Kunstfond, Københavns Kommune, Nørrebro Lokaludvalg, A.P. Møllers Fond.