Dato/tid
04.02.2022
20:00 – 23:00
Sted
KoncertKirken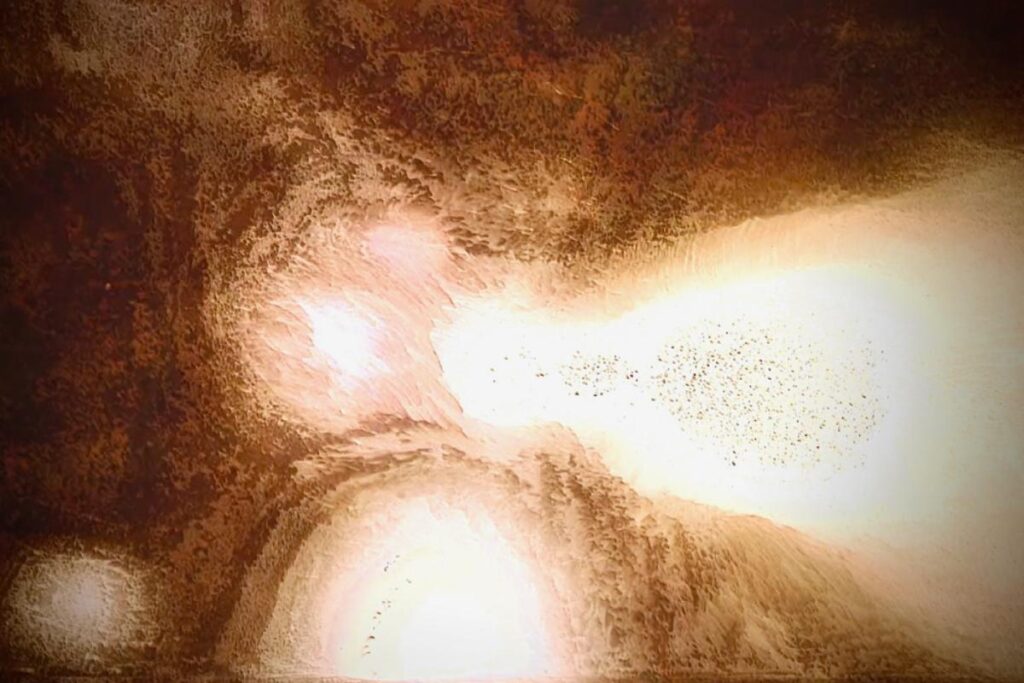 VINTERJAZZ @ KONCERTKIRKEN 2022
HYPNO QLUB I
Fraction aka Eric Raynaud (FR)
Katrine Amsler (DK)
David Åhlén (SE)
Fraction (Eric Raynaud) – elektronics, visuals
Katrine Amsler – elektronics, visuals
Olof David Åhlén – elektronics, vocals
---
Fraction (Eric Raynaud) is a new media artist whose work focuses in particular on immersive and audiovisual experience design. His practice has developed from a background in music composition and spatial sound which led him to put together complete skills in the field of new media art. He now devotes his time writing and producing pieces integrating digital materials of different kinds. He is particularly interested in forms of experience that have strong interactions between generative art and sonic matter. Combining complex scenography and hybrid digital writing with visuals, sound and physical media, he aims in particular to forge links between contemporary art and digital scope within the frame of radical experiences. Fascinated by sound intensity, energy, ecstasy, and the idea of "being able to sculpt digital disorder as a raw matter", he finds in the lexicon of sound spatialization the appropriate field for designing atypical pieces, placing at the center of his writing the immediate physical and emotional experience. He was recently leading a residency in artistic research at IRCAM (Paris, France).
---
Katrine Amsler has a deep interest in the texture and structure of sound, exploring and investigating the sounds of different objects. Whether it be old organ pipes, cheap-keyboards-running-low-on-batteries, a beautifully squeaking bridge or a hifi recording of a kitchen fan. Both as a composer and a musician her work is often a result of a process where I sculpture and layer sound elements both played and sampled. Sometimes handled with utmost care and other times with calculated carelessness. Sometimes she polishes to an almost psychopathic extent and other times she keeps the untreated ingredients completely raw. Her music is diverse, touches a variety of genres and always wants to be listened to.
---
Olof David Åhlén, Swedish artist and producer, creates improvisations with a contemplative tone based on the synthesis of the wordless voice and analog electronics. Suggestive, abstract soundscapes with a sacred touch. David has collaborated with artists such as Stefan Östersjö, Mariam Wallentin, Sofia Jernberg and Maria W Horn. David is also curator for Skaiv – a venue in Stockholm for artists within the realms of experimental, modern composition, electronic and exploratory music….
---
TICKETS from 19.30 @ The Door: 100 DKK / Stud. 50 DKK
---
VINTERJAZZ @ KONCERTKIRKEN 2022 is supported by Statens Kunstfond, Københavns Kommune a.o.