Dato/tid
06.02.2016
20:00 – 22:00
Sted
KoncertKirken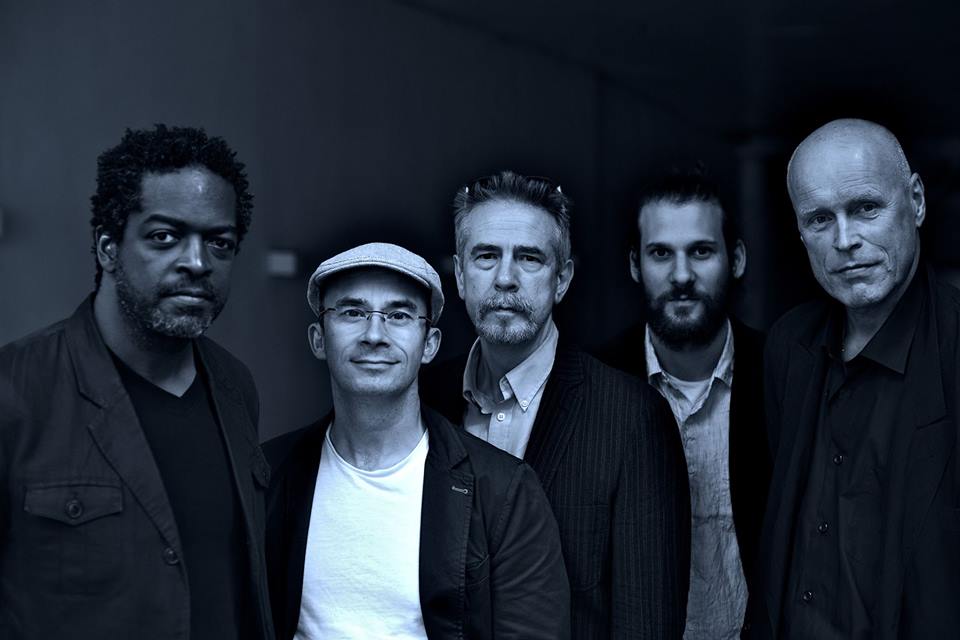 VINTERJAZZ 2016 – Basement Research (DE/US/UK/FR)
Basement Research (DE/US/UK/FR)
Julian Argüelles – baritone sax (UK)
Steve Swell – trombone (USA)
Gebhard Ullmann – tenor sax, bass clarinet (DE)
Pascal Niggenkemper – bass (DE/FR)
Gerald Cleaver – drums (USA)
Gebhard Ullmann har siden 90'erne været en markant personlighed på den eksperimenterende europæiske jazzscene og rundede sidste år hele 50 udgivelser i eget navn. Ullmann er med års mellemrum vendt tilbage til sin gruppe Basement Research, der tidligere har talt medlemmer som Tony Malaby og Ellery Eskelin. Den nyeste inkarnation af Basement Research omfatter Ullmann på tenorsax og klarinet, Steve Swell på trombone, Julian Argüelles på barytonsax, Pascal Niggenkemper på bas og Gerald Cleaver på trommer.
Det seneste album 'Hat and Shoes' har fået fremragende anmeldelser. New York Jazz City Record skriver, at Basement Research aldrig har lydt 'bedre eller hårdere,' end de gør nu. Med sin karismatiske ro og sans for både swingende og frie universer er Ullmanns tilgang bestemt værd at sætte under luppen.
* * *
With 'Basement Research' Gebhard Ullmann released his first cd for the Italian label Soul Note/Black Saint in 1995. Four of the most interesting individualists out of the new generation of contemporary jazz players realized their very personal and intense musical ideas. The cd has been widely critically acclaimed and been listed in the US-college-radio-jazz -charts for several months. Tthe second cd 'Kreuzberg Park East' (with Ellery Eskelin, Drew Gress, Phil Haynes) released on Soul Note in 2000 had even more impact in jazz circles. After a European tour with Tony Malaby replacing Eskelin in 1999 (documented on the cd 'Live in Muenster') and a 5-year pause, the new 'Basement Research' project went on tour again in 2004 as a quintet. The final 2005 line-up featured Gebhard Ullmann (bcl, ts), Steve Swell (tb), Julian Argüelles (bs, ss), John Hebert (bass) and Gerald Cleaver (dr). The 4th cd 'New Basement Research' was released 2007 once again on Soul Note as part of Gebhard Ullmann's 50th birthday celebrations, made a lot of best-of-the-year lists and received a 4 1/2 star review in Down Beat in March 2008. A very successful tour followed, closed by a concert at the prestiguous Berlin Jazzfestival in November 2007. 'New Basement Research' was among the best of 2008 cds in Down Beat and 'Don't Touch My Music Vol.1' was named one of the best cds of the year by Allabout Jazz New York. 'Don't Touch My Music Vol. 1 & Vol. 2', recorded live at the Alchemia Club in Krakow, Poland, was released in 2009 and the new studio cd 'Hat and Shoes' in 2015. Both cds again received raving reviews in German and international magazines.
The Basement Research project more than once was named a contemporary follow-up to Charles Mingus music. Tthe band toured Europe again in October 2009 and 2013 with Pascal Niggenkemper replacing John Hebert on bass.
_ _ _
Tickets: 80 dkk.
The concert is organised in collaboration with Jazz Club Loco.
VINTERJAZZ I KONCERTKIRKEN støttes af Statens Kunstfond, Københavns Kommune, Oticon Fonden, Augustinus Fonden, Nørrebro Lokaludvalg, DJBFA / Komponister og Sangskrivere.