Dato/tid
07.07.2020
22:00 – 23:00
Sted
KoncertKirken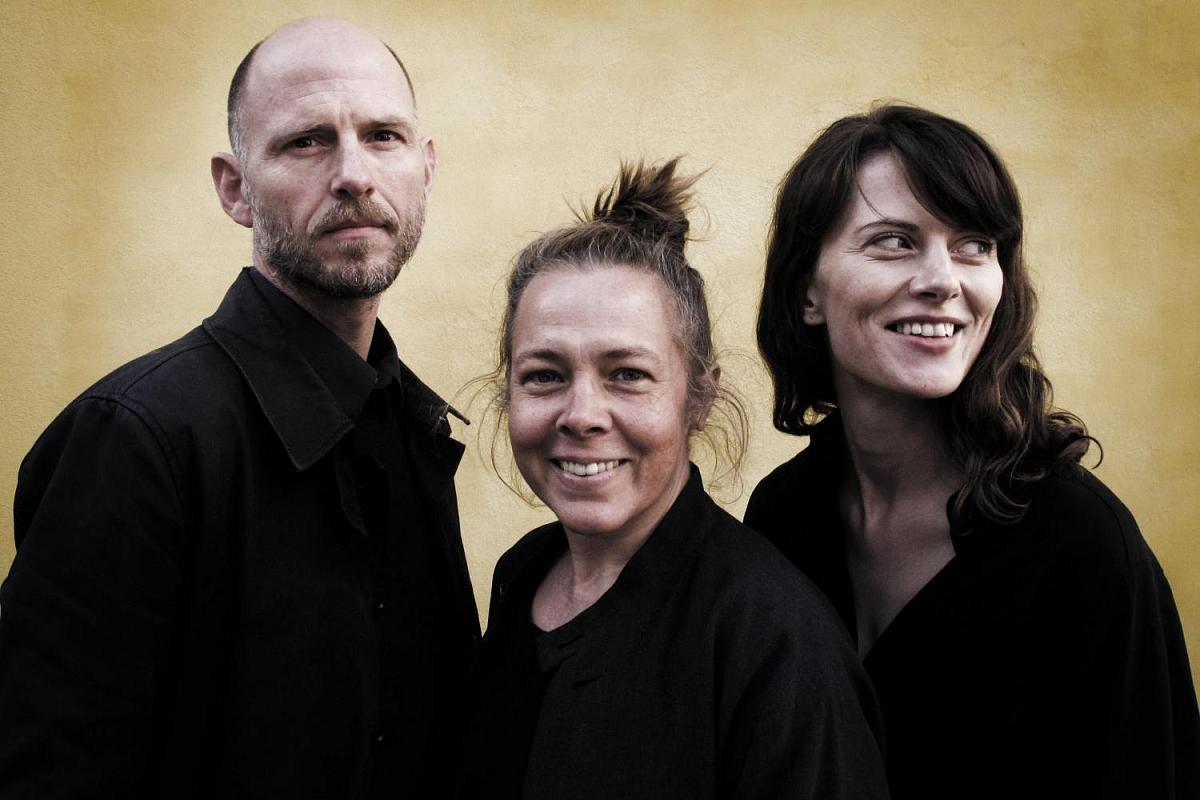 SOMMERJAZZ @ KONCERTKIRKEN
Thou Sonic Friend (IE/DK)
Carolyn Goodwin – clarinets, reeds, vocals
Peter Tinning – guitars, effects
Birgitte Lyregaard – vocals, percussion
Three musicians of great sensitivity explore the spaces of sound in between, among and within them. Using voices and all possible sounds of their instruments, the three create a parallel universe, a palet of soundcolours where the listener can go cruising their own imaginations.
Goodwin, Tinning and Lyregaard met at the Jyderup Accordeontræf in 2017 and found a correspondence of
spirit and approach that would make a beautiful base for a brand new musical project.
Carolyn Goodwin, clarinets, reeds, vocals (Ireland)
Based in Copenhagen since 2016. Having initially trained as a classical saxophone, her interest in creative music and improvisation led to further studies in rhythmic music at the Royal Academy of Music in Aarhus. Her projects to date have seen her play various contexts, including creating music for dance and theatre, actor/musician roles in contemporary opera, and various collaborations within the free improvisation and
jazz community in Copenhagen and abroad. Member of Irish based folk/improv quartet Clang Sayne, and Carolyn Goodwin Trio.
Peter Tinning, guitars, effects
Graduate jazz guitarist from The Royal Conservatory in The Hague, The Netherlands, performs and records with various ensembles and artists internationally, composing the music for most collaborations. His main focus of the last years is improvisation versus strictly composed music. Even though Tinning is trained as a jazz musician he often works with classically trained musicians and composers, authors and artists, and
seek inspiration in the fields between the different arts and the possibilities and obstacles that this involves.
Birgitte Lyregaard, vocals, percussion
Is a versatile vocalist as well as a composer, lyricist and storyteller and is equally at home in the world of jazz, impro, deep pop and concert tales. She was made at sea, born in London, grew up in Denmark and studied at the Conservatories in The Hague and Rotterdam in Holland obtaining her Jazz Vocal Master in 2004. She is involved in various projects as vocalist, composer and lyricist, has through the last 14 years performed/recorded on podias/festivals all over Europe, and has so far released four Cd's in her own name.
TICKETS: 100 DKK / Stud: 50 DKK
Find billetter til SOMMERJAZZ 2020 her
SOMMERJAZZ @ KONCERTKIRKEN 2020 is supported by Statens Kunstfond, Københavns Kommune, Augustinus Fonden, Goethe Institut Dänemark a.o.