Dato/tid
06.07.2020
23:00 – 23:59
Sted
KoncertKirken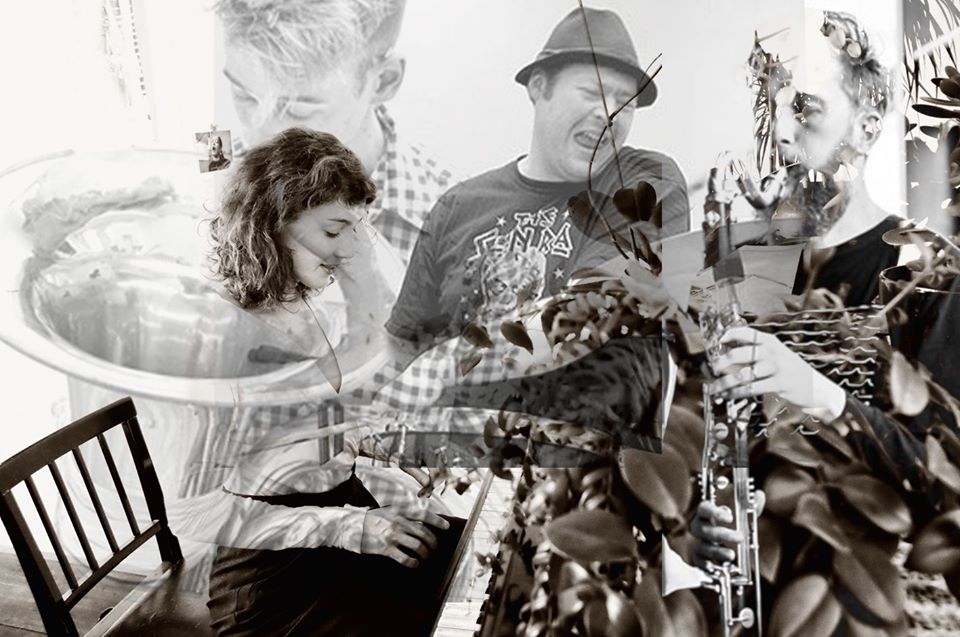 SOMMERJAZZ @ KONCERTKIRKEN
Osgood/Draksler/Tangvik/Greve (SI/NO/DK)
Kresten Osgood – trommer
Kaja Draksler – piano
Kristian Tangvik – tuba
Lars Greve – klarinet
Kresten Osgood
has been playing music his entire life, starting on piano and drums before he was old enough to remember himself. On his journey with music, Kresten has played in large parts of the world and played all kinds of music ranging from marimba bands, African rhythms, organ combos (he recently began performing on the B3 as an organist himself), all kinds of jazz, improvised music, abstraction, hip hop, rhythm and blues and accompanying singer-songwriters. As a drummer he has recorded with Paul Bley, Yusef Lateef, John Tchicai, Oliver Lake, Wadada Leo Smith, Kurt Rosenwinkel, Steven Bernstein, Ran Blake, Michael Blake, Jerome Cooper, Sam Rivers, Charles Davis, John Tchicai, Derek Bailey, Akira Sakata, Masabumi Kikuchi, Dr Lonnie Smith, Hugo Rasmussen, Bent Jædig and many others… He has performed with Bennie Maupin, Billy Preston, William Parker, Mat Maneri, Brad Mehldau, Eugene Chadbourne, Josh Redman, Jason Moran, Tony Scheer, Ladonna Smith and countless others.
He has hosted his own radio show (Osgood´s Jazz), as well as a children show, and was a panelist on the Danish TV show Smagsdommerne. He is part of the faculty at the Rhythmic Conservatory in Copenhagen and has composed music for his large ensemble Indianerne and music for a puppet theater. He has collaborated with dancers and poets, arranged his own festival and a symposium about contemporary music.
Kaja Draksler
is a Slovenian pianist and composer.
After her studies in the Netherlands (BA in jazz piano and MA in classical composition), she decided to stay in Amsterdam, where she became an active member of the improvisors scene, performing extensively all over the Europe.
Her main project is her Amsterdam-based Octet, which she formed in 2016. Besides her frequent solo concerts, she has been working internationally over the past years with trio Punkt.Vrt.Plastik, quartet Hearth, and in duets with Terrie Ex, Susana Santos Silva, Eve Risser (To Pianos), Onno Govaert (Feecho) and Szymon Gąsiorek (Czajka & Puchacz). She is one of the founding members of the interdisciplinary group I/O and part of the internationally acclaimed Doek collective.
As a composer she has been commissioned by various international groups, ranging from vocal and chamber ensembles to big bands and orchestras.
Kaja is interested in finding ways to merge the composition and (free) improvisation by working with different structures and musical logics. In the spirit of the Dutch jazz/improvised music legacy, she is drawn to the idea of erasing the stylistic and historical musical borders, and discovering personal expression and language through composition and improvisation.
Kristian Tangvik
Norwegian musician, composer and producer located in Copenhagen / Denmark. Active in a lot of different bands, often performing in the underground and experimental stages of Denmark and beyond. As a solo-artist i mainly work within electronic and electro-acoustic music – with a fondness for vintage equipment and Lo-Fi / DIY aesthetic. In other projects I play mostly experimental jazz and related genres – most frequently on my main instrument – Tuba, but also keys and electronics. Two albums to be released in 2019 – one as a solo performer, and one as the leader of an electro-acoustic sextet featuring prominent figures from the danish jazz and experimental scene.
Lars Greve
Saxofonist og klarinettist som umiddelbart er svær at indfange med ord og genrerbetegnelser. Det seneste år har han sammen med Annisette Koppel og Aske Zidore til danseforestillingen "X-Mythologies", skabt lydinstallationen "lysets engel" med otte(!) kirkeorgler, lavet et kunstnerisk portræt af Vestjylland med fotografen Fryd Frydendahl og har et nyt samarbejde med pianisten Jeppe Zeeberg på trapperne. Desuden har han optrådt med navne som Girls in Airports, Chris Cutler, Bon Iver, IceAge, Peter Friis Nielsen og mange andre.
Det vægtigste projekt dette år er værket "dødedans" – en solooptagelse udgivet på vinyl, lagt i et tre kilo tungt aluminiumscover lavet af billedhuggeren Ingvar Cronhammar. Musikken er kun tilgængelig i 66 eksemplarer til 5000,- stykket, som næsten er udsolgt. Til koncerten i Koncertkirken vil lyttere der ikke lige har mulighed for at få fingre i værket få en sjælden mulighed for at høre musikken opført live og akustisk.
TICKETS: 100 DKK / Stud: 50 DKK
Find billetter til SOMMERJAZZ 2020 her
SOMMERJAZZ @ KONCERTKIRKEN 2020 is supported by Statens Kunstfond, Københavns Kommune, Augustinus Fonden, Goethe Institut Dänemark a.o.