Dato/tid
05.07.2020
17:00 – 18:00
Sted
KoncertKirken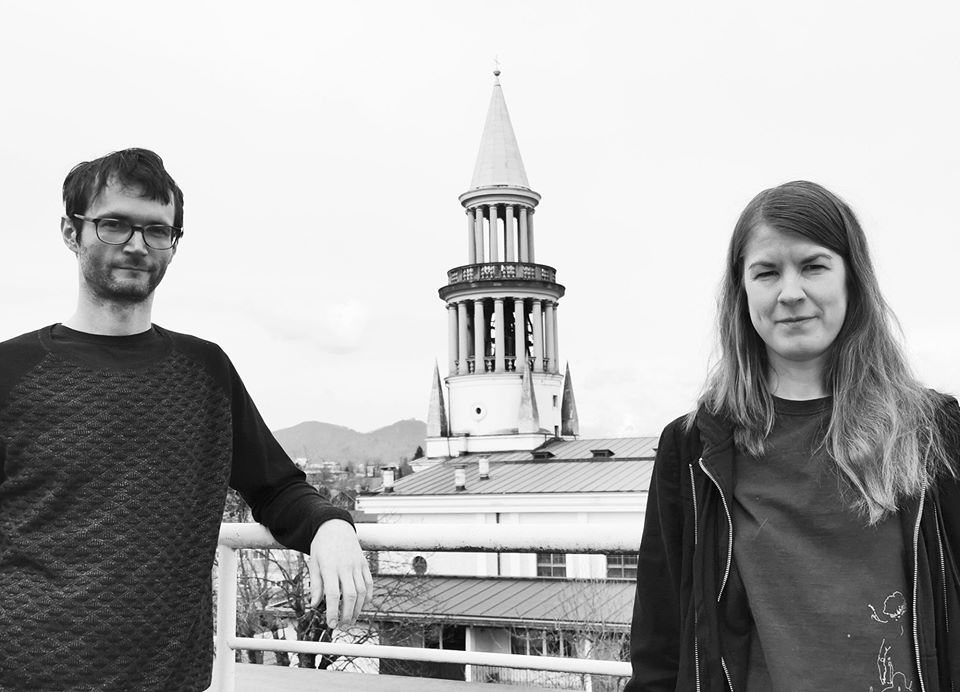 SOMMERJAZZ @ KONCERTKIRKEN
Rudi Fischerlehner/Mia Dyberg feat. Søren Kjærgaard (AT/DK)
Mia Dyberg – alto saxophone
Rudi Fischerlehner – drums, percussion
Søren Kjærgaard – piano
Mia Dyberg and Rudi Fischerlehner worked together in different constellations over the last years, with musicians as Rieko Okuda, Jeb Bishop, Matthias Bauer & Håvard Wiik to name a few. At the same time they developed a quite unique duo universe, reaching trance states through minimalism and abstract beats, throwing chunks of improvised noise at each other or trying to emulate the acoustic environment of a park in the middle of Berlin Kreuzberg.
The duo recently released the digital album 'Pause' on Farai Records (June 3rd 2020) and played a livestream concert at Panda Theater in Berlin.
This concert at KoncertKirken will be the duo's first concert in Denmark and they will invite a special guest!
Rudi Fischerlehner plays drums in various different musical projects that fall between improvised and experimental music, jazz and post-rock. He also composes and produces music for bands, flm and performances. His current projects include his drum solo project 15 8 SLUM, XENOFOX with Olaf Rupp (and occasionally Joke Lanz), RMF with Rupp and Matthias Müller and Ohlmeier / Khroustaliov / Fischerlehner. He also drums for Gorilla Mask, La Tourette and the Julie Sassoon quartet and is involved with indie-labels Farai-Records and Not Applicable. 'He makes music as if he would produce chance.' Kristof Schreuf, Junge Welt
The berlin-based saxophonist Mia Dyberg plays in the fields of Jazz and free improvisation. Her unique melodic expression emerges from sound experiments & scandinavian melancholy. She composes for Mia Dyberg Trio which plays free jazz inspired by W. S. Burroughs. Clean Feed released the debut Ticket! which was reviewed by jazz magazines such as 4 stars in Downbeat Magazine [USA]. She is a steady member of the dadaistic improv-collective Klub Demboh, playing with Axel Dörner and Tristan Honsinger every Monday since 2017. 'The saxophonist's adroit phrasing and tonal flexibility express a variety of moods and textures quite clearly, and her melodic imagination ensures that each gesture lands with emotion.' —Bill Meyer Downbeat Magazine
https://farai-records.bandcamp.com/album/pause
https://www.youtube.com/watch?v=daAdnyYUCyI
https://www.miadyberg.com/fischerlehner_dyberg/
http://www.rudifischerlehner.net
Søren Kjærgaard's work as a pianist, composer and improviser encompasses a variety of settings ranging from his trans-Atlantic trio with drummer Andrew Cyrille and bassist Ben Street, to the duo collaboration with Torben Ulrich, the 82 year old legendary Danish tennis player and inter-disciplinary artist.
Most of S.K.'s activities in recent years have been exploring and interweaving different approaches to music and sound, converging elements of improvisation, composition, performativity and practice into one dynamic field of play. This has lead to a manifold of international exchanges, commissions and a growing discography of critically acclaimed albums
S.K. graduated at the Rhythmic Music Conservatory in 2002, after having done his diploma in New York City. He has received numerous awards and grants, including 1st Prize in the Young Nordic Jazz Comets ('00), the Danish Radio Jazz Prize ('04), three Danish Music Award nominations ('06, '09), a Danish Arts Council Prize Award ('10) for the album "Open Opus" with Kjærgaard/Street/Cyrille and his third trio release "Femklang" with Street and Cyrille was selected as Album Of The Year 2011 in The New York Jazz Record.
In recent years, S.K. has toured extensively in Europe, Asia, Canada and the US with both his own projects and in various collaborations. Having released 10 albums as a leader and played on thirty-some albums as a sideman, SK is regarded as one of the leading voices coming out of the vibrant Danish jazz, improv- and new music scene today.
OUTDOOR CONCERT – FREE ENTRANCE
Find billetter til SOMMERJAZZ 2020 her
SOMMERJAZZ @ KONCERTKIRKEN 2020 is supported by Statens Kunstfond, Københavns Kommune, Augustinus Fonden, Goethe Institut Dänemark a.o.