Dato/tid
24.11.2015
20:00 – 22:00
Sted
KoncertKirken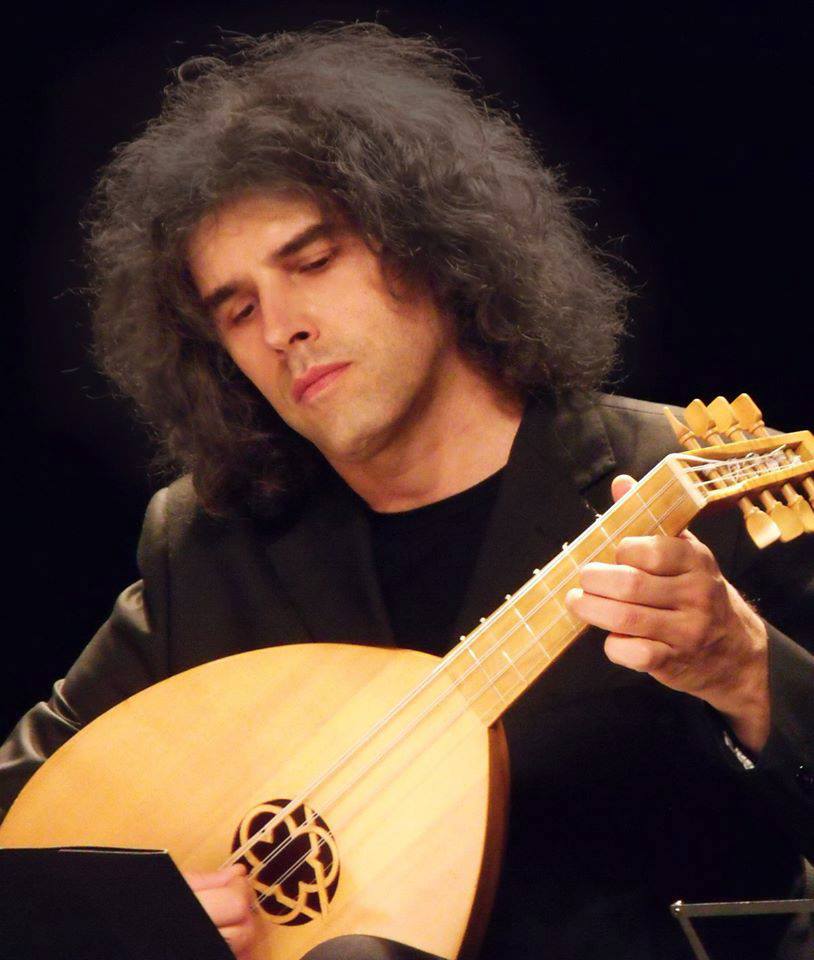 SIMONE SORINI (it) – voice, lute, citthara, tamburello
Copenhagen Renaissance Music Festival 2015 – SOLO!
SIMONE SORINI (it) – voice, lute, citthara, tamburello
"IL CANTORE AL LIUTO"
THE GOLDEN AGE OF THE SINGING-LUTENIST
Concert of famous Italian Renaissance sacred songs,
"villanelle"," frottole" and madrigals, performed by voice and lute
From the original tablatures, specifically written for voice and lute, through to the 'in style' elaborate versions of famous pieces from that time, this concert will unfold a suggestive journey through the fascinating sounds of the era of the "Cantore al Liuto" – singer accompanying himself with his lute.
TICKETS: 75 DKK / stud: 50 DKK
* * *
Simone Sorini – Cantore al Liuto (tenor), researcher, author
Graduated in musicology, he carries out philologist and researcher activity – focusing for many years on the music repertoires from the Duchy of Montefeltro and the Della Rovere family, as a result of which he has designed and executed with Ensemble Bella Gerit, as well as founder and director, four recorded works on Renaissance repertoires from Urbino – and now crowned by the publishing of his book about an important Flemish author of the late Renaissance, whose footsteps had almost been lost; the volume, titled "L'Opera Sacra di Leonard Meldert" includes, in addition to unpublished music rediscovered by Sorini that transcribed it using modern notation, also biographical news, new interpretative hypothesis relative to the repertoires of the age, and studies on the relationship between Meldert and the other musicians of the age.
Thanks to this study M° Sorini has also entered to be part of the contributors of the New Grove, the greatest encyclopaedia of music and the musicians, now available on web.
Having studied singing with several teachers in Italy and Europe, he has a unique vocal technique that allows him to obtain a full tenor acute sound, brilliant and natural.
His non academic and immediately recognizable vocal style, that has made him a point of reference for performers of early music, is much appreciated in Europe, where he performed in the most important theatres and festivals, including Temporada Gulbenkian of Lisbon, Early Music Festival in Boston, Saison Musicale à Royaumont, Early Music Weekend in London, Stockholm Early Music Festival, Festival Van Vlaanderen in Antwerp, Festival Baroque in Pontoise, Copenhagen Renaissance Music Festival.
Multi-instrumentalist, over the years he has gained an in-depth knowledge of Medieval and Renaissance plectrum instruments, owner of dozens of them- all rebuilt according to the ancient iconography – also thanks to the study with M° Adolfo Broegg.
Versatile interpreter of lute repertoires from the Middle Age to the early Renaissance, he performs as a soloist accompanying himself with his instruments while singing, bringing back to light the ancient profession of the "Cantore al liuto", historical definition often credited to Francesco Petrarca, but typical of Italian musicians and composers from the late '400.
Historical member of the Ensemble Micrologus, he collaborates moreover with other groups especially in France, including Les Musiciens de Saint-Julien and Vox Cantoris.
He is director of the choral group "Narnia Cantores", a mixed-voice vocal ensemble dedicated to the execution of medieval repertoires which also makes use of stringed instruments, drums and percussion reconstructed according to ancient iconography.
He holds training courses and singing workshops, and whenever possible he also gives to his performances an educational-cultural print.
His encyclopedic knowledge of styles and genres from medieval to modern music, together with his natural-born musical vocation, have made possible the design of original and particular projects of contamination between the ancient world and the contemporary, where evocative and unusual sounding ancient instruments dialogue with electric and digital ones.
This research resulted in his latest creation, the concert/show OPUS, an Italian-French production inspired by alchemy, staged in Pigna (Corsica) in the summer of 2013, of which other representations have been staged in Italy in the summer of 2014.
In this context has also designed and implemented with Bella Gerit the multimedia show "De Divina Proportione" presented at the Ravenna Festival 2011, also taking care of the musicological and historical side of the research.
He has sung and played in over 30 recordings released by Sony, Stradivarius, Alpha, K617, that in France have received prestigious awards such as the "Diapason d'or" and "Choc de la musique"; He has also been part of the "Myth" world tour, a work by Sidi Larbi Cherkaoui, and he has performed, besides Europe, in Mexico, Canada, Russia, Bulgaria, Syria and the United States.
Specialist in Medieval and Renaissance repertoires, he also played the main roles in baroque operas by: Vivaldi, Monteverdi, Albinoni. He has sung and recorded for Radio France Musique, Radio Osterreich 1, RAI Radiotelevisione Italiana, SBS Radio Sidney.