Dato/tid
03.04.2014
20:00 – 23:00
Sted
KoncertKirken
KØBT ELLER SOLGT III
Torsdag 3. april:
20.00: Richard Andersson Icelandic Trio
Oskar Gudjonsson (IS) ts
Matthias Hemstock (IS) dr
Richard Andersson (DK) b
21.30: Lina Allemano Four
Lina Allemano – ­ trumpet
Brodie West – alto saxophone
Andrew Downing – double bass
Nick Fraser ­ drums
Entré: 50 kr.
Koncerterne støttes af DJBFA, Nørrebro Lokaludvalg, Københavns Kommune, samt Canada Council for the Arts.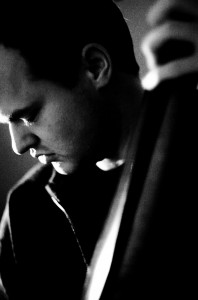 Richard Andersson Icelandic trio
I august 2013 flyttede den unge fremadstormende bassist, Richard Andersson, til Island. Siden da har han samarbejdet med en stor del af musikerne fra den lokale jazzscene i Reykjavik som blandt andet Eythor Gunnarsson, Sigurdur Flossason, Joel Palsson og Hilmar Jensson. Richard har tidligere indspillet og optrådt med store danske og internationale navne som blandt andet Dave Liebman, Jesper Zeuthen, Rudi Mahall, Jef (Tain) Wats, Bill McHenry og Bob Moses.
Nu har han fundet sammen med to af de mest toneangivende musikere fra den islandske jazzscene pt.
Oskar Gudjonsson er meget anerkendt for sit samarbejde med bassisten Skuli Sverrisson og også for sin del i bandet ADHD, som netop har indspillet sit femte album. Oskar har spillet over 300 internationale koncerter i 40 lande på 5 kontinenter med blandt andre Jim Black, Mezzo Forte, ADHD og Søren Dahl Jeppesen kvartet.
Matthias Hemstock har igennem de sidste 25 år optrådt og indspillet med en stor del af musikerne fra den islandske jazzscene. Efter han i 1991 vendte hjem fra to års studier på det højt anerkendte Berkley college of Music blev han ansat på FIH School of contemporary rhythmic Music i Reykjavik, hvor han lige siden har været en stor inspirator for den yngre generation af studerende, som har studeret her.
Sammen med de to islændinge spiller Richard Andersson sine egne kompositioner, som er skrevet med jazz traditionen i mente. Musikken bliver spillet med den unikke nordiske ro, som kan få pulsen ned på selv det mest stressede individ. Man får et musikalsk billede af Islands store åbne vidder, hvor det eneste man kan se i horisonten er et bjerg der skyder op af den rå sorte vulkanørken med den hvide sne som kontrast.
LINKS
www.soundcloud.com/richard-g-andersson/fem-rsplanen
www.richardandersson.dk
 ENGLISH:
Richard Andersson Icelandic trio
In August 2013 the up and coming Danish bass player, Richard Andersson, moved to Iceland. Since then he has been collaborating with a big part of the musicians from the jazz scene in Reykjavik. In September 2013 he started a weekly jazz jam session on Sundays at Hresso, where he has been playing with Eyþor Gunnarsson, Scott McLemore, SnorriSigurðarson, Oskar Gudjonsson, Hilmar Jensson, Matthias Hemstock, Einar Scheving, Agnar Már Magnússon, Jon Pall and Jóel Pálsson among others . Richard Has recorded and performed with widely recognized international musicians as Jef (Tain) Wats, George Garzone, Tony Malaby, Bill McHenry, Bob Moses, Jerry Bergonzi, Kasper Tranberg, Anders Mogensen, Dave Liebman, Phil Markowitz among others.
Now he has started his own trio with some of the most significant players on the Icelandic jazz scene today.
Oskar Gudjonsson is widely recognized for his collaboration with the bass player Skúli Sverrisson and also for his part in the band ADHD, which just has recorded their 5th album yet to be released. He has played over 300 international concerts in 40 countries in 5 continets with among others Jim Black, ADHD, Mezzo Forte, Oskar Gudjonsson SkúliSverrisson duo and Søren Dahl Jeppesen quartet.
Matthias Hemstock has over the last 25 years performed and recorded with a wide variety of Icelandic musicians and bands. After he returned from two years of studying at the highly prestigious Berkley college of Music in 1991 he started teaching at FIH School of contemporary rhythmic Music, where he has been a great inspirer for many of the younger generations graduating from FIH.
LINKS:
www.soundcloud.com/richard-g-andersson/fem-rsplanen
www.richardandersson.dk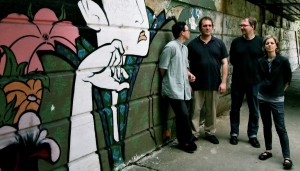 LINA ALLEMANO FOUR
"(Trumpeter) Lina Allemano is one of the most exciting new voices of the last few years" [Point of Departure, June 2013].
Hailed as one of Canada's leading avant-garde/free-jazz bands, LINA ALLEMANO FOUR is known internationally for their inventiveness, playfulness, and synergy as they deftly blur the line between composition and improvisation.  The band has been touring extensively for the past 8 years all across Europe, USA and Canada.  Their music has been described as abstract melodicism, combining lush colours with dense free-flowing rhythmic textures.  "Lina Allemano and her band have created an eclectic sound that makes its own synthesis of tradition and avant-garde, of structure and freedom, of clever composition and emotional depth, of abstraction and warmth…it is just beautiful and moving and fun." [The Free Jazz Collective, Belgium, Nov 2012].  LINA ALLEMANO FOUR was invited to perform in New York City at the prestigious FONT Festival of New Trumpet Music in both 2010 and 2013.  In 2013, the band was also invited to perform at the renowned international experimental film festival, Images Festival, playing their own new original live scores for 1960's experimental short films.  Their newest and 4th album, Live at the Tranzac (2012), has been receiving very favourable attention from countless reviewers internationally, making a splash particularly in Europe and USA.  Their 2010 release, Jargon, also received many accolades internationally, and was notably named in Exclaim!'s Improv & Avant-Garde Albums of the Year and Eye Weekly's Best Toronto Albums.  Lina Allemano was named one of DownBeat Magazine's top innovative trumpeters for the future in 2007.  Please visit the band's website for more info.
www.linaallemano.com
Lina Allemano Four gratefully acknowledges generous support from the Canada Council for the Arts for this tour.