Dato/tid
13.07.2019
19:00 – 20:00
Sted
KoncertKirken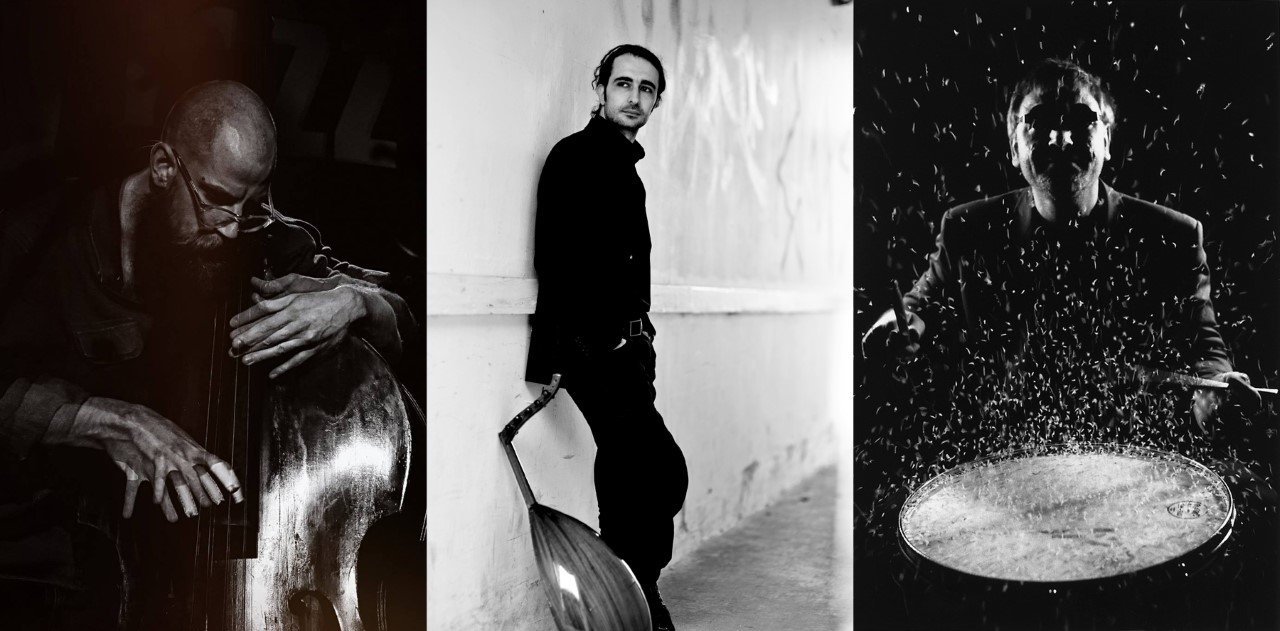 Copenhagen Jazz Festival 2019
Maher Mahmoud / Tomo Jacobson / P.O.Jørgens
An unlikely meeting between one of the most prolific Syrian oud players Maher Mahmoud and two improvisers, the legendary Danish drummer P.O.Jørgens and the always busy double bassist Tomo Jacobson. The music is improvised, widely spread between avant-garde sound and traditional music. The trio is in the process of recording an album, coming out next year.
Maher Mahmoud is a Syrian composer and oudist. He was born in 1986 in Salamiya -a city in the middle of Syria- and lived in Damascus until 2012 when he briefly moved to Jordan. In 2013 Maher moved to Denmark, where he presently resides.
Maher started his musical education at the age of six by learning the Arabic oud. He graduated from The Higher Institute of Music in Damascus in 2010, where he studied the oud deeply and both Arabic and classical western music. In 2019 Maher graduated from The Royal Academy of Music in Aarhus, Denmark, where he studied at the Soloist-line (The Advanced Postgraduate Diploma) in rhythmic composition.
Maher has since 2005 been composing and arranging for several musical groups: big band, symphony orchestra, solo, various ensemble sizes, Arabic Takht and chamber orchestra. He is interested in world music and discovering new sounds on the oud and additionally, experimenting with different styles of contemporary music.
Since 2009, Maher has worked with different bands and artists in Denmark, UK and around Europe – among others are Damon Albarn and Brian Eno, Berlin Chamber Orchestra, Dunia Ensemble, The Syrian Expat Philharmonic Orchestra, EU.Terpe Orchestra, Dicte, JSO Bremen-Nord Philharmonic Orchestra, The Orchestra of Syrian Musicians, RUM band, Blood-Sweat-Drum & Bass big band, S. Møller Big Band, Art Ensemble Syd, Listen! Trio, Nouri Iskandar String Quartet, Li Dine, Simon Spang-Hansen & Middle Earth, Jiraan, Grænseløs, Jovan Pavlovic Trio and many others.
Alongside, Maher is working on several projects, which range from Arabic, jazz and classical oriental music, and is starting a new network of Syrian professional musicians around Europe in collaboration with Danish musicians in Denmark, where he found The Syrian Expat Ensemble.
His debut album Mirage was released in 2010
Tomo Jacobson is a Polish-born double bass player based in Copenhagen, Denmark. He focuses his efforts on free improv and other creative musics. With over two dozen albums to his credit, he is mostly known for the projects he is a leader, or co-leader to, namely MOONBOW, MOUNT MEANDER, or IL SOGNO, as well his solo double bass work, and free improv encounters with acclaimed musicians.
Tomo has been very fortunate to perform with the greats like John Tchicai, Andrew D'Angelo, Lotte Anker, Mat Maneri, Adam Rudolph, Rasul Siddik, P.O. Jørgens, Frank Gratkowski, Fred Lonberg-Holm, Sun Araw, Mikołaj Trzaska, Michael Blake, Alex Zhang Hungtai, Tanya Kalmanovitch, Jacob Anderskov, Kresten Osgood, Hugh Steinmetz, Søren Kjaergaard, Torben Snekkested, Jesper Zeuthen, and many others.
He played at numerous festivals like Copenhagen Jazz Festival (DK), Vinter Jazz (DK), Roskilde Festival (DK), Festival of Endless Gratitude (DK), Festa dell'Opera (IT), Milhões de Festa (POR), Jazz Jamboree (PL), Jazz Jantar (PL), Mózg Festival (PL), Sopot Molo Jazz Festival (PL), Audio Art Festival (PL), In Front (DE), Jazz Units (DE), or Creepy Teepee Festival (CZ).
He has performed in Denmark, Sweden, Germany, Estonia, Poland, Italy, Cuba, Belgium, Austria, Czech Republic, Portugal, Los Angeles and New York.
In 2017 together with Hipermania, Tomo has also founded an independent record label and publishing house Gotta Let It Out.
Peter Ole Jørgensen (alias Pere Oliver Jørgens & P.O. Jørgens), der med grupperne Cockpit Music og Global Guaranty Orchestra allerede gjorde meget af det, som yngre grupper gør idag , tilbage i slut 70érne / start 80'erne er heldigvis fortsat i allerhøjeste grad aktiv – og det ikke blot med de ovennævnte bands, der fortsat eksisterer, men også med en del nyere bands og konstellationer.
Blandt disse bør nævnes: The Wild Mans Band med Peter Brötzmann, "Sweethearts In a Drugstore" udnævnt i 2002 som "The currently best sounding group in Europe" i The Wire, Expanded Botanics" med Wachsmann & Riis, "Torden Kvartetten" med Mats Gustafsson, samt selvfølgelig hans mangeårige samarbejde med den legendariske Pere Ubu sanger David Thomas. Han har spillet med nærmest alt hvad kan krype og gå af
improvisiations musikere i danmark, samt ett stort antall udenlandske musikere, bl.a. David Moss, Phil Minton, Axel Dörner, Steve Lacy, Mats Gustafsson, Thomas Lehn, Raul Björkenheim, John Tchicai, Z'ev, Frank Lowe, Inge Juså, Andrei Otriaskin, David Thomas, Evan Parker, Johnny Dyani, Poul Rutherford, DJ Apache 60, Tim Hodgkinso etc.
Copenhagen Jazz Festival @ KoncertKirken er støttet af Statens Kunstfond, Københavns Kommune, Knud Højgaards Fond, Oticon Fonden, Dansk Musiker Forbund, Nørrebro Lokaludvalg.