Dato/tid
06.09.2020
20:00 – 21:00
Sted
KoncertKirken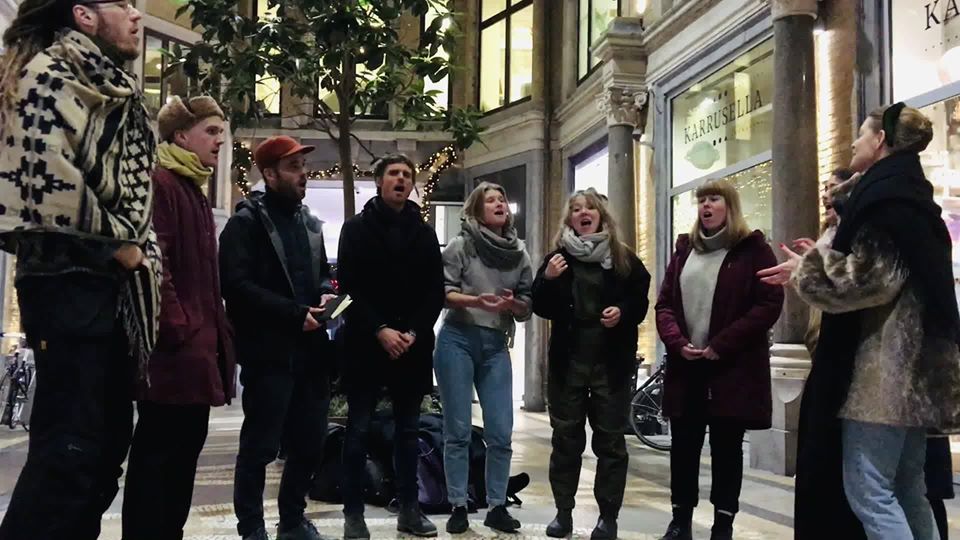 I forbindelse med CPH World Music Festival synger vi i KoncertKirken! Vi synger sange fra hele verden – bl.a. Georgien, Korsika og Bulgarien. Kom og oplev et anderledes tonesprog fyldt med smukke og skæve harmonier.
Koncert: 20.00-21.00
Dørene åbner kl. 19.30
Entré: 100 DKK / Stud. 50 DKK
OM VOKALGRUPPEN NOOR
Vokalgruppen NOOR er en blandet a cappella gruppe bestående af 12 sangere under ledelse af Nini Julia Bang. Vi synger sange fra hele verden, bl.a. Georgien, Korsika, Østeuropa og Skandinavien. Det meste af denne unikke musik er blevet videregivet fra generation til generation i mange hundrede år, og det er med en dyb respekt for historierne og menneskene bag, at vi giver musikken vores helt særlige NOOR-lyd, og lader sangene leve videre, så vi kan blive mindet om deres kraft.
Følg os på:
Facebook: www.facebook.com/vokalgruppennoor
Instagram: www.instagram.com/vokalgruppennoor
——
We are joining CPH World Music Festival and will be singing in Koncertkirken! We'll be singing songs from all around the world – e.g. Georgia, Corsica and Bulgaria. Come and spoil your ears with beautiful harmonies!
Concert: 20.00-21.00
Doors open: 19.30
Entrance: 100 DKK / Stud. 50 DKK
ABOUT NOOR
Vocal Group NOOR is a group consisting of 12 singers under the leadership of Nini Julia Bang. We sing songs from all over the world – e.g. Georgia, Corsica, Eastern Europe and Scandinavia. Most of this beautiful music has been passed on from generations to generations, through hundreds of years. It is with deep respect for the history and the people behind that we give the music our own special "NOOR-sound". It's a way for the songs to live on from a new perspective.
Follow us on:
Facebook: www.facebook.com/vokalgruppennoor
Instagram: www.instagram.com/vokalgruppennoor