Dato/tid
08.12.2023
19:00 – 21:00
Sted
KoncertKirken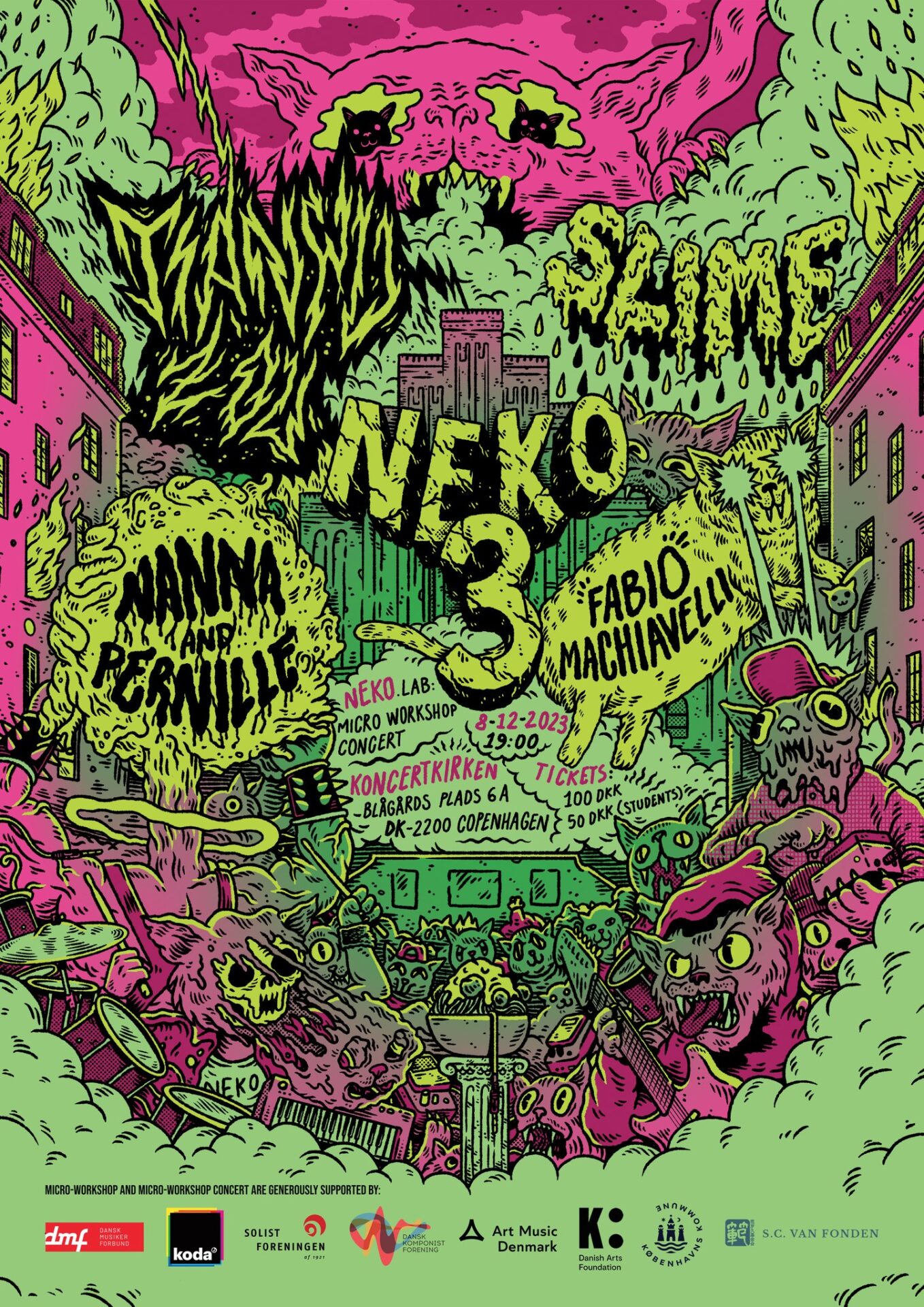 Join us for a cozy concert-turned-Christmas lunch aka. the second edition of NEKO3's Micro-workshop concerts
In early 2023 we selected four composers/artists (or groups thereof) to participate in the 2023 Micro-workshop. Throughout the year we've held workshops with each of them, molding their ideas together to be presented on stage at the end of the year. And the time is night: find your way to KoncertKirken on December 8th for an extravaganza filled with movies, DIY instruments, Maneki-Nekos and hyper-pop!!
The evening will begin with a concert showing the end results of the raw musical ideas the artists and us worked on together, which is followed by a delicious dinner, a casual discussion with the composers, and cozy hanging-out. It's the perfect time of the year to participate in your NEKO3 family event – see you there
---
TIME & PLACE
Friday the 8th of December 2023, Concert Church (Copenhagen)
SCHEDULE
19:00 concert
20:30ish eating together
21:30 discussing with composers
---
FEATURED COMPOSERS & ARTISTS
*Nanna Lysdahl Sogaard & Pernille Kaufmann
*Fabio Macchiavelli
*Tianyu Zou
*ONLY SLIME (Claudia Cox & Tobi Pfeil)
sound engineer: Mikael Tobias
producer: Erica Giacoletto
poster designer: Alessandro Ripane
---
FOOD & DRINKS
We will serve a menu of delicious vegan food (specifics tba). You can buy a concert ticket with or without the dinner. If you have any allergies, inform us by email at neko3cph@gmail.com by 1.12.2023 at the latest.
Moreover, the bar of the venue will be open throughout the evening.
---
TICKETS
Ticket prices
*concert ticket with dinner, adult – DKK 100
*concert ticket with dinner, discount (students, pensioners etc.) – DKK 50
*concert ticket, adult – DKK 100
*concert ticket, discount – DKK 50
---
FINANCIAL SUPPORT
We are utterly grateful for the Statens Kunstfond / Den Unge Kunstneriske Elite, Dansk Musiker Forbund, KODA, Gramex, Solistforeningen af ​​​​1921, Dansk Komponistforening, Art Music Denmark, Copenhagen Municipality and SC Van Fonden for supporting the project.