Dato/tid
08.11.2015
13:00 – 18:00
Sted
KoncertKirken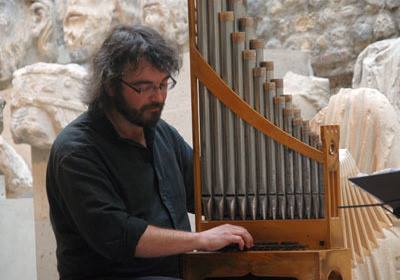 MEDIEVAL MUSIC WORKSHOP – with Christophe Deslignes (fr)
COPENHAGEN RENAISSANCE MUSIC FESTIVAL 2015
Medieval Music Workshop
with Christophe Deslignes (France)
The Workshop is for singers and instrumentalists, soloists or ensembles.
The following topics will be approached:
– interpreting Vocal and Instrumental Music from Ars Antiqua and Ars Nova : relationship between poetry and music, working on poetical forms and arrangements
– using approrpriate instruments in accompagning voices
– using specific meens on specific instruments
– choosing and working with tuning systems
– composing instrumental music after songs
– ornamentation and diminutions
– how to improvise
Other topics can be approached according to the wishes of the participants.
Date: Sunda Nov 8
Time: 13.00-18.00
Price: 300 DKK
Max 10 participants.
Send application with short info about your background and preferences to: bjornross@gmail.com
Deadline: Nov 1
The workshop is held in English.
NB: Christophe gives a solo concert on Nov 7 at 16.00!