Dato/tid
20.05.2023
19:30 – 21:00
Sted
KoncertKirken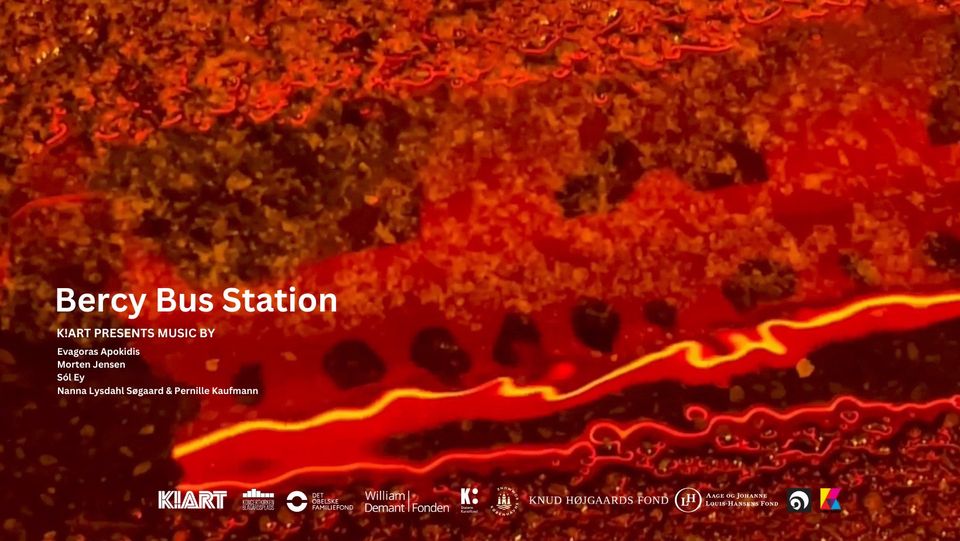 K!ART: Bercy Bus Station
At this concert ensemble K!ART will present a stylistically diverse program of new and recent works by young Danish-based composers and artists.
---
Program:
Evagoras Apokidis: Karesansui II (2020) for guitar, piano, cello & percussion.
Morten Jensen: The Soul of the Universe (2022) for guitar, piano, cello, percussion & video (world premiere).
Sól Ey: Liljulag (2020) for cello and live electronics.
Sól Ey: Haldalda (2020/2022) version for cello, live electronics and video.
Nanna Lysdahl Søgaard & Pernille Kaufmann: Bercy Bus Station (2023) for clarinet, cello, percussion and video (world premiere).
---
In Bercy Bus Station (2023) by Nanna Lysdahl Søgaard and Pernille Kaufmann, music, video and fragments of speech are woven together, composing and decomposing unbalanced parallels and juxtapositions. In a voice-over, we hear snippets of personal notes written by a restless screenwriter on a bus journey from Paris to Barcelona. Abrupt, suggestive and unstable tableaus of music enter into dialogue with these speech fragments in metallic timbres that shifts from a wide spectrum of overtones to narrow acoustic beatings and glassy noise. As the visual interlocutor, the video is dominated by shots of traffic, transits and vessels, creating a dreamscape of half-imagined, half-remembered trips that together speak of the strange simultaneity of mobility and immobility characteristic of road journeys.
---
Karesansui II (Stone garden) by Evagoras Apokidis is an attempt to create a landscape, the sound landscape of a stone garden. Taking into consideration the paradox that a stone garden creates, through its symbolisms. The words "stone" and "garden" create constant tension as the two words that compose it have an antiparallel connection with each other, stone-lifeless, garden-alive, stone-eternal, garden-mortal.
---
The Soul of the Universe by Morten Jensen is a multimedia composition for sound, video, acoustic guitar, cello, piano and percussion. Dedicated to the folly of humankind and the destruction of all that we hold dear.
(To the question whether the universe has a soul? My answer would be: Probably not, but art is limitless and in the world of art, a soul is perfectly logical)
---
Sól Ey's version of the Liljulag – a notorious song that is possibly written by the devil himself to a text by a 14th century Icelandic monk – explores the traditional song in an arrangement for cello and live-electronics. It's followed by her work Haldalda (2020/2022) for cello, live electronics, and light sculpture evolves around traces of sound and lights. The self-coined expression haldalda, translated as hold-wave or decay-wave, refers to long echoes of sound and flickers of light. The piece tries to capture an artificial dialogue between acoustic and virtual sounds and light, each leaving its own traces, creating waves of echoes.
---
Performers: Mikkel Schou (guitar), Rob Durnin (piano), Ida Nørby (cello), Hsiao-Tung Yuan (percussion), Joss Smith (clarinet), Sól Ey (live electronics).
---
Composers:
Evagoras Solias Apokidis is a Greek composer with a bachelors degree in electroacoustic composition from Nicosia University in Cyprus and private composition studies with Tasos Stylianou. Evagoras Solias Apokidis currently lives in Copenhagen, where he studies composition at the Royal Danish Academy of Music.
Morten S. Jensen (1990-) is an Aarhus based composer, he studied composition privately at the Royal Academy of Music, Aarhus with Lasse Laursen and holds a degree in philosophy and German language and literature from the University of Aarhus.
Sól Ey is an Icelandic artist and researcher whose work combines sound, space, movement, light, and the body. With a background in composition, she uses tools such as sensors, DIY electronics, scenography, video projections, and spatial sound. Her artistic output comprises performances, installations, and instrument design that emphasise interaction, immersion, and participation.
Pernille Kaufmann is a Danish writer and experimental filmmaker living and working in Paris. Her work is often situated in the field between fact and fiction, mixing poetry with documentary text or video elements.
Nanna Lysdahl Søgaard is a Copenhagen based composer. Her work often explores the spectral aspects of sound as well as sound as both organic and synthetic material.
---
K!ART is an experimental music ensemble and creative platform based in Copenhagen. The group has been presenting DIY-flavored, intermedial music events since 2019.
The commissioning of Bercy Bus Station was made possible with support from KODA/Dansk Komponist Forening & Statens Kunstfond.
The concert is realised with support from Det Obelske Familiefond, Knud Højgaards Fond, William Demant fonden, Statens Kunstfond, KODA/Dansk Komponist Forening, Louis-Hansens Fond, Solistforeningen af 1921 & Københavns Kommunes Musikudvalg.
---
Tickets: 50 kr [mobilepay at door]