Dato/tid
10.07.2021
19:00
Sted
KoncertKirken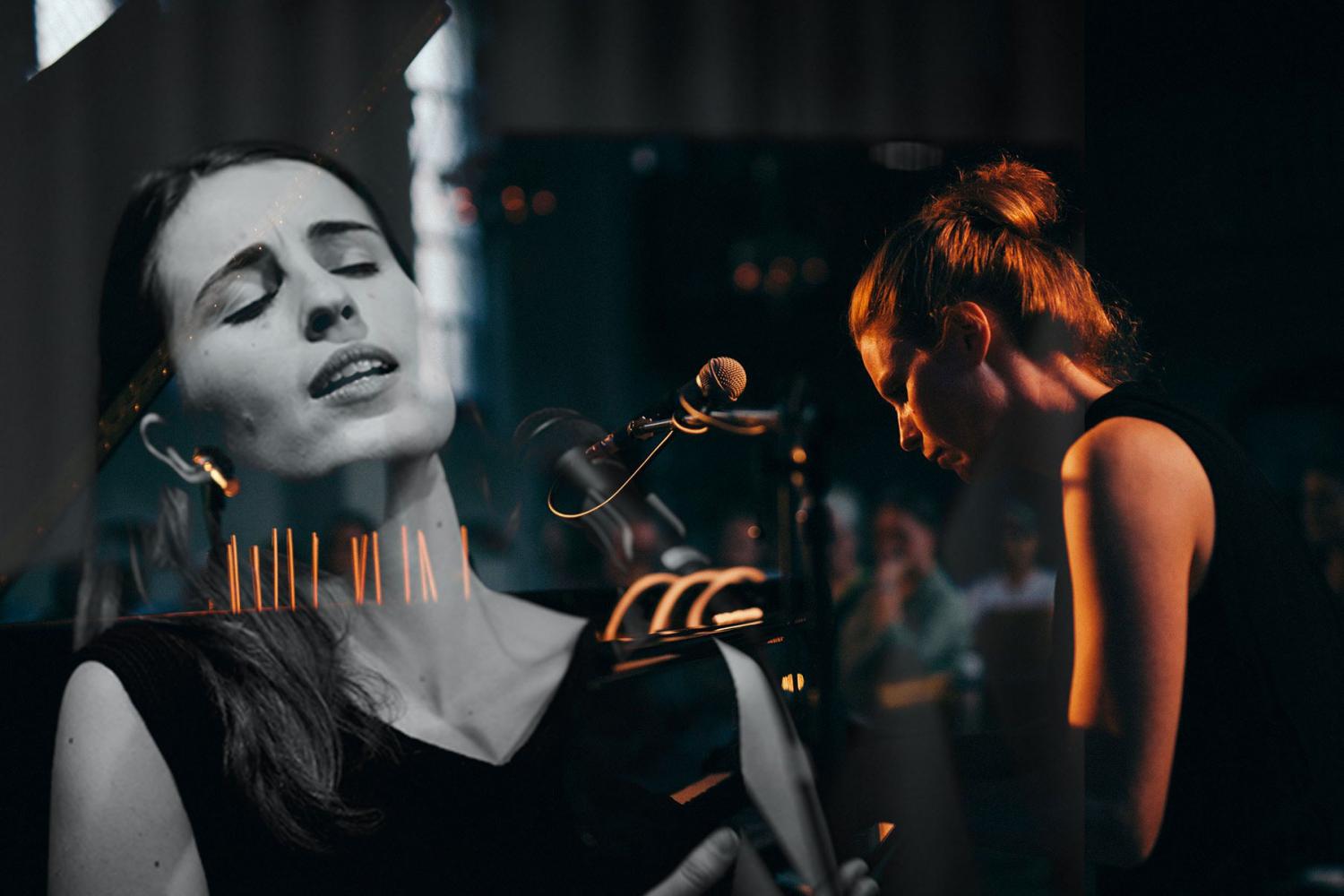 Almut Kühne – voice, Johanna Borchert – piano
Almut Kühne & Johanna Borchert er velkendte fra deres multimediale renaissance projekt Dowland Waters (www.dowlandwaters.com). De to musikere ser tilbage på et langt samarbejde som har sine r¢dder i musik og improscenen i Berlin. I denne koncert vil de to musikere forbinde deres improvisationsevner med et par enkelte stykker fra deres Dowland program og vil bevæge sig fleksibelt og innovativt rundt mellem fri tonekunst og nedskrevet renaissance musik. Både Almut Kühne og Johanna Borchert er hver især kendt for at mestre improvisation i diverse kontekster og samarbejder, bl.a med Fred Frith, Gebhard Ullmann, Anthony Coleman, Jonas Westergaard, Peter Bruun.
The german singer and composer Almut Kühne, born 1983 in Dresden, lives in Berlin and sings improvised solo concerts, in duo/trio with jazz musicians like Gebhard Ullmann, Anthony Coleman, Chris Dahlgren, Johanna Borchert, Liz Kosack, Carl Ludwig Hübsch and Oliver Potratz and in large ensembles like the swiss Bottom Orchestra, Christophe Schweizers Rumi project and in contemporary music theater productions.
Since 2019 she regularly performs with Novoflot, an independent opera company based in Berlin. With a keen interest she explores the connection of visual art, music, movement, literature and science together with dancers, actors and visual artists like Helge Leiberg, Marianna Christofides and Niklaus Troxler.
You can find various recordings with Almut Kühne. Latest Releases in 2019: Songs of Work with the Bottom Orchestra (whyplayjazz); Deuce Crossings – Komova/Kühne/Ullmann/Kruglov (Fancy Music); Septuor de Grand Matin by Peter Ehwald (Jazzwerkstatt) and in 2021: How Noisy Are The Rooms? (boomslang records) a trio with turntable virtuoso Joke Lanz and drummer Alfred Vogel.
"Vocalist Almut Kühne leaves all genre boundaries behind her and regardless of any losses she goes to her own personal limits: impressive!"
(Peter Füssl, Kulturzeitschrift Dornbirn, 2014)
http://www.almutkuehne.de/
Johanna Borchert is a pianist, singer, songwriter and composer currently residing in Copenhagen (since 2017). Her initiatives are praised as transcending genres and as being multilayered works, for which she received several awards, including but not limited to: the Danish Music Award and the New German Jazz Prize. For her vocal debut in 2015 "FM Biography", Johanna received the "Echo Jazz" as the best national singer. The follow-up album "Love or Emptiness", which was released in November 2017, has received exceptional praise from the press: […] "If the world were fair, David Lynch would have invited Johanna Borchert to reissue his series" Twin Peaks "To play one of her imaginative songs on the stage of his 'Roadhouse'." […] – Jazzpodium 2017.
Johanna has been a regular guest on renowned European and international concert stages and festivals. At the heart of her artistic expression is her open and playful approach to music.
http://www.johannaborchert.de
BILLETTER a 100 DKK per koncert / Stud: 50 DKK sælges i døren.
Udendørskoncerterne er gratis.
Husk Coronapas!
Cph Jazz Festival @ KoncertKirken 2021 støttes af Statens Kunstfond, Københavns Kommune, William Demant Fonden, Augustinus Fonden, Dansk Musiker Forbund m.fl.