Dato/tid
12.11.2014
20:00 – 21:00
Sted
KoncertKirken
GODS and MONSTERS
– Theatrical French Harpsichord Music in Celebration of the Rameau Anniversary, 1764 – 2014.
GILBERT MARTINEZ – harpsichord
Program:
Louis Couperin (c.1626-1661)
Suite in g minor: Prélude – Allemande – Courante – Sarabande-Passacaille
Jean-Philippe Rameau (1683-1764)
Piéces de Clavessin (1724)
Suite in e/E: Allemande – Courante – Gigue en Rondeau I & II – Le Rappel des Oiseaux – La Villageoise – Rigaudons 1 & II – Musette en Rondeau – Tambourins
Suite in d/D: Les Tendres Plaintes – Les Niais de Sologne – Les Soupirs – Le Joyeuse – La Follette – L'Entretien des Muses – Les Tourbillons – Le Lardon – La Boiteuse – Les Cyclopes
Played on Flemish harpsichord (after the Ruckers school, 17th century, by Roberts and Brazier, Los Angeles Harpsichord Center, 1994)
Tickets at the door: 50 dkk
Koncerten støttes af Nørrebro Lokaludvalg.
* * *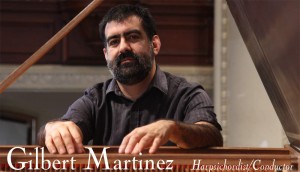 Gilbert Martinez, a native of San Francisco, is the Artistic Director of MusicSources, an organization serving Northern California's thriving early music community. He became the director in 2005, and quickly expanded its collection of early keyboard instruments, as well as broadening its international concert series and educational outreach.
Originally from Los Angeles, Martinez studied harpsichord since a very young age, his first teacher being Wm. Neil Roberts. Subsequently, he studied at the San Francisco Conservatory of Music with Laurette Goldberg, the founder of Philharmonia Baroque Orchestra and MusicSources
Finally he studied in Italy with Alan Curtis, with whom he has received much continued support.
Mr. Martinez was assistant conductor to Alan Curtis in a critically acclaimed Berkeley/West Edge Opera production of Handel's "SERSE." He created the West Edge Baroque Orchestra for this wildly successful production, and the orchestra was singled out for its perfect ensemble by The San Francisco Chronicle, The San Francisco Examiner, and the Wall Street Journal.
Gilbert Martinez was responsible for a significant modern revival of "Delizie di Posilipo, Boscarecce e Maritime, 1620" in a co-production with the University of California at Santa Cruz and MusicSources. This culminated in a fully staged multi-media event that involved over 50 students, scholars and performers of Italian renaissance music, and was an attempt to recreate the original choreography, costumes, scenery and "special effects" according to the eyewitness accounts from the period.
Last season, he conducted a new production of Monteverdi's "L'Incoronazione di Poppea" with West Edge Opera.
As a soloist he recently performed the complete harpsichord works of Jean-Philippe Rameau, entirely from memory, in concerts in Los Angeles, San Francisco and Canada.
Gilbert Martinez was recently married in Denmark, and will be living part time in Copenhagen, where he is excited to make many new musical friends.
Gilbert will be performing with LA Chamber Orchestra this december and later conducting Ritorno D'Ullisse with Berkeley Opera in 2015.