Dato/tid
27.11.2015
20:00 – 22:00
Sted
KoncertKirken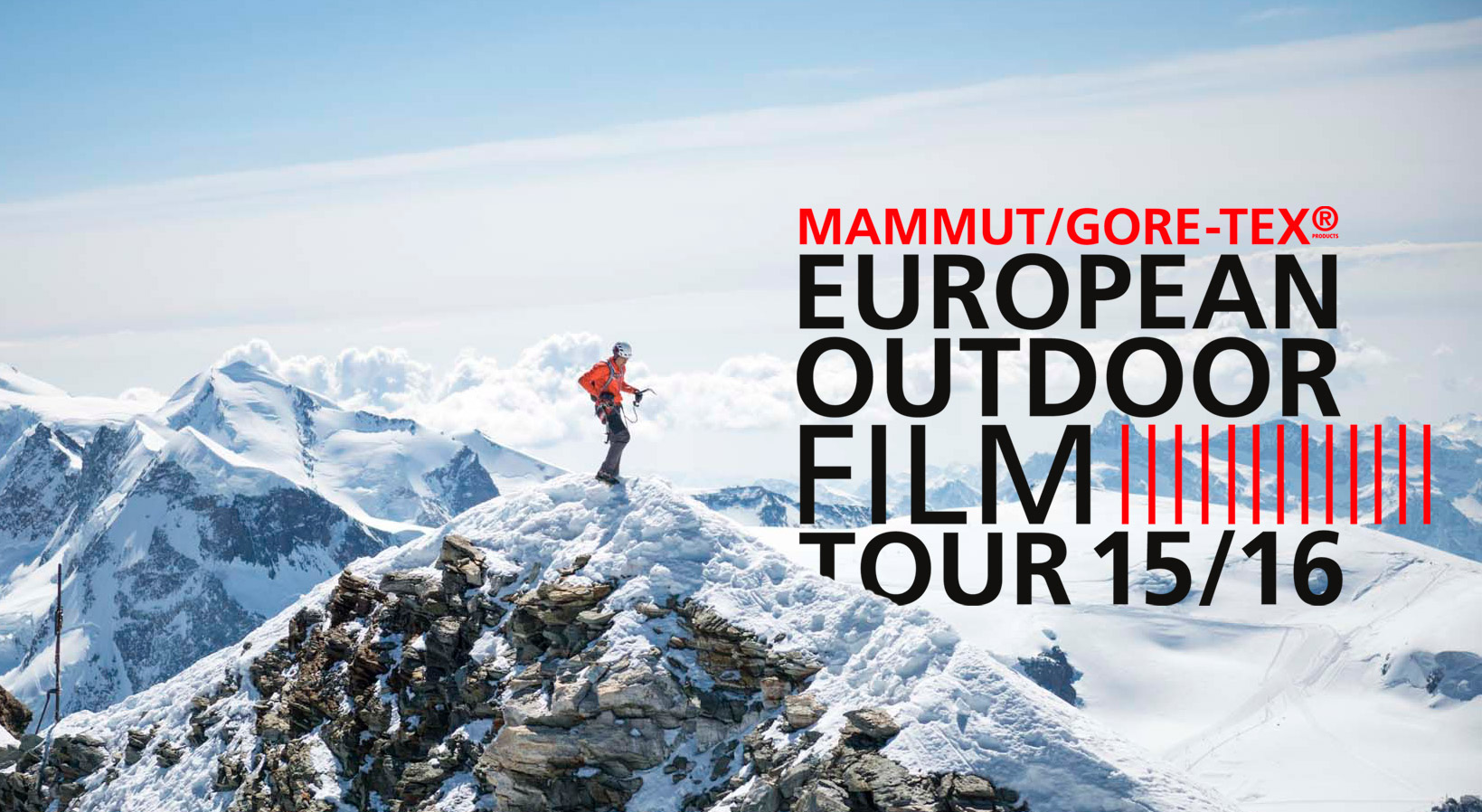 EUROPEAN OUTDOOR FILM TOUR 2015
From October, the E.O.F.T. 15/16 will be on tour in 14 European countries.
From the roof of the world in TAMARA to exploring an uninhabited volcanic island in the middle of the Pacific Ocean in ONEKOTAN, searching for the meaning of life with the best slackliners in the world in MASTERS OF SLACK and discovering the American wilderness with four guys and a herd of wild mustangs in UNBRANDED, the European Outdoor Film Tour is a two hour programme, featuring a special edit of nine of the best adventure sports films of the year, on a big screen near you.
PROGRAM:
DEGREES NORTH
Some people never seem to grow up. Xavier de le Rue is one of them. He may be older and wiser than the current generation of younger snowboarding talent, but he's never lost his youthful exuberance and sense of curiosity about the world. The professional snowboarder and adventurer chooses his lines with care and with good reason – he is still the fastest, boldest and most confident athlete you'll find on the steepest of mountain faces. Always seeking new challenges, he's teamed up with Samuel Anthamatten to take motorised paragliding and freeriding to a new level on the Lofoten Islands and in Alaska.
USA 2015, Guido Perrini, 9 minutes
MASTERS OF SLACK
Bouncing on a slackline Jaan Roose and Andy Lewis have probably had more ups and downs in their lives than most other people. These two very different personalities are united by a deep love of their sport and a conviction that wearing clothes is sometimes overrated. Jaan, who comes from the isolated forests of Setumaa in Estonia, is a natural slacklining talent. He became one the world's top athletes in just five years – eventually surpassing Andy, the "Godfather of Slacklining", who had dominated the competition scene before deciding to celebrate "slacklife" instead. A portrait of two contrasting characters and their lifestyles which proves you'll never find your balance by standing still.
Germany 2015, Moving Adventures, Matthias Edlinger, 10 minutes
A LINE ACROSS THE SKY
Walking the line in PatagoniaAlex Honnold on a rope is a rare sight, but he and Tommy Caldwell chose a real monster for their first major alpine route. Together the pair ventures to the Fitz Traverse in Patagonia, seven pinnacles at frosty elevations that will demand more than just the standard climbing know-how from these two Yosemite veterans. In terms of weather and climbing, Patagonia is nothing like California. It's a fact these two learn the hard way, but they never lose their sense of humor. The story of a crazy adventure.
USA 2015, Sender Films, Big Up Productions, 25 minutes
ONEKOTAN – THE LOST ISLAND
Skiing the volcanoSomewhere between Kamchatka and Hokkaido is an uninhabited, largely inaccessible island in the middle of one of the coldest regions in Russia. For professional free riders Matthias Mayr, Matthias Haunholder and Phil Meier the adventure begins just trying to get to Onekotan. Their goal: the first descent of the volcano at the center of the island, but with temperatures of -20 degrees and unrelenting storms the expedition quickly becomes a dangerous odyssey.Austria 2014, M-Line, Mischfabrik, coproducer: Red Bull Media House, director: Simon Thussbas, 20 minutes
Tickets:
170 DKK for advance sales tickets, available from our local partners and online at: www.eoft.eu
Key facts:
European premiere on October 9th in Amsterdam
German start: October 16th in Füssen
Tour dates: October 2015 to February 2016
A total of 9 films, 14 countries and 300 events