Dato/tid
17.11.2015
20:00 – 22:00
Sted
KoncertKirken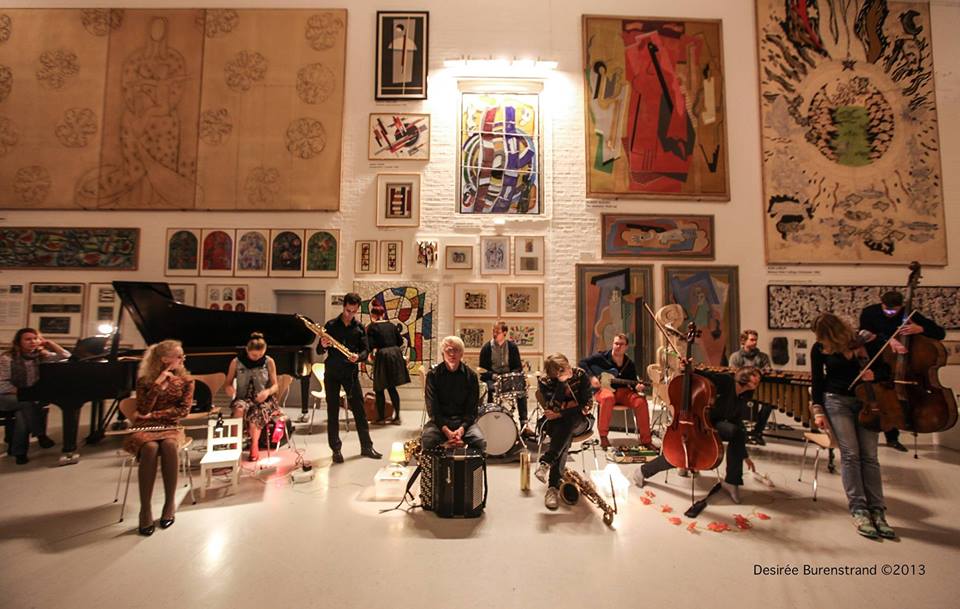 Ensemble Morph
Ensemble Morph är ett unikt musikprojekt som spänner över landsgränser och musikaliska genrer. Med ett material byggt på improvisation, lyhördhet och experimentell lust skapas musiken kollektivt i stunden. Ensemblen bildades 2011 och består av 13 musiker från Norden och Vitryssland. Sedan starten har Ensemble Morph jobbat målmedvetet med en arbetsform där musikernas individuella erfarenheter, temperament, kunskaper och konstnärliga val får blomma ut. Det klingande står i ständig förändring och varje konsert skapas i relation till rummet, akustiken, publiken och stoftpartiklarnas långsamma färd genom luften.
Konstnärlig ledare: Herman Müntzing.
Elena Mashkovskaya – flute
Stanislav Pialov – saxophone
Nana Pi Aabo-Larsen – saxophone
Olle Wikström – saxophone
Aliaksandr Yasinski – accordeon/bayan
Tatsiana Omelyanenko – violin
Ilona Les – cello
Dan Schyman – doublebass
Niklas Bennerholm – percussion
Kristoffer Rostedt – drums
Irina Pietkevich – piano/glass instrument
Simon Thörn – guitar
Ensemble Morph was formed in spring 2012 as a development of a fruitful cooperation project between the Music Academy´s in Minsk, Belarus and Malmö Music Academy, Sweden. Since 2014 is independent and is funded partly by the Swedish Art Council. Founder, musical leader and composer is Herman Müntzing. The ensemble consists of professional musicians both from the classical and jazz tradition who together melt into a new form of experimental improvised music.
The repertoire consists of a modern kind of improvised music, organized not by a traditional score, but with other forms of guidelines and instructions like graphic notations, hand signs and similar. The combination of predestinated instructions and individual choices from each musician is characteristic for the overall artistic idea of the ensemble.
"it's like free jazz, but much more free!"
Watch Ensemble Morph performing "Rhythm of Change" in Minsk:https://vimeo.com/62569194