Dato/tid
03.12.2015
20:00 – 22:00
Sted
KoncertKirken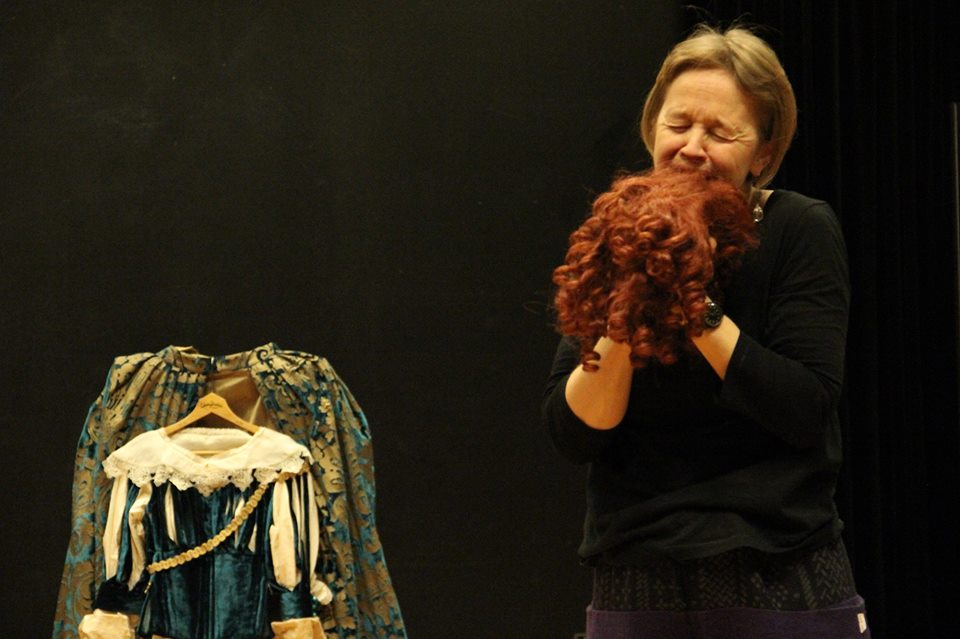 Elisabeth Belgrano – GLORIES TO NOTHINGNESS
GLORIES TO NOTHINGNESS
SORROW. MADNESS. NOTHING.
A voice. A gesture.
A beginning. An experiment. A sketch.
A becoming.
… based on the story of a singer's performance of paradoxes and passions
in 17th century Venice.
… based on a singer's artistic research – performed in the 21st century – into/through the Art of Performing Everything and Nothing.
Elisabeth Belgrano – voice, dramaturgy
Björn Ross – scenography
Tickets: 75 dkk / stud; 50 dkk
* * *
This vocal exhibition stages a performance act of music by Luigi Rossi, Claudio Monteverdi and Francesco Sacrati. Different events intra-actively set the stage: A vocal reading of a manuscript in Rome around 1640 / a reading of the same musical manuscript in the library of Cardinal Richelieu in Paris after 1640 / vocal readings, performances and recording sessions of the same manuscript in Gothenburg, Paris, Santa Fe, Boston, Seattle, Bloomington and Rome between 2001-2015 / artistic research, performances and articulated fragments on vocal madness, lamentation and nothingness, 2006-2015 / reading the volume Le Glorie Del Niente (Glories to Nothingness) from 1634, Biblioteca Nazionale Marciana, Venice, 2009-2010 / reading the volume Le glorie della signora Anna Renzi romana from 1641, Venice, 2010-2015 / studies of posthuman and new materialist theories from 2012-2015…
PROLOGUE
On stage a voice appears. Alone. At first. Unaccompanied. Naked. Solo. Vulnerable. Fearful. But there is no such thing as being alone. The act unfolds itself into a poetics carried out by a single voice and all its multiple relations: Ottavia, Deidamia, Maria Eleonora, Renzi, The False Mad, Un/Know, unexpected stories entangling themselves into every corner of space/time. What vocally appears on stage touches the edge of a pen and little by little differences, colors and shades infiltrate an empty space on-line. What is performed in one event transforms into multiple others. Space/times -where we all become performers in one way or an/other (Barad 2010). http://www.researchcatalogue.net/view/226423/226424
Ref.
Barad, Karen (2010) Quantum Entanglements and Hauntological Relations of Inheritance: Dis/continuities, SpaceTime Enfoldings, and Justice-to-Come, Derrida Today 3.2 (2010): 240–268
DOI: 10.3366/E1754850010000813, Edinburgh University Press,www.eupjournals.com/drt
Elisabeth Belgrano (voice/artistic research) performs her professional career based upon multiple differences and entanglements staged as follows:
studies of 17th century vocal music / recipient of Noah Greenberg Award from The American Musicological Society, 2005 / awarded a PhD in Performance in Theatre and Music Drama in 2011 for Performing Nothingness through Mad Scenes and Lamentation in 17th Century Opera, Academy of Music and Drama, Univ. of Gothenburg / supervising and examining learning through performative arts and teachers-training in visual arts and music / co-directing the Cross-Disciplinary Faculty Group for Performance-Performativity, University of Gothenburg, since 2013 / presenting and performing at international festivals, symposia, conferences / passionate for paradoxes / loving pedagogical adventures / mad about vocal ornamentation through artistic sensuousness/ desiring trust through touch…
http://www.gu-se.academia.edu/ElisabethBelgrano
http://konst.gu.se/english/ArtMonitor/dissertations/elisabeth-belgrano
http://www.researchcatalogue.net/profile/?person=889
* * *
Copenhagen Renaissance Music Festival 2015 is supported by: Knud Højgaards Fond, Oticon Fonden, Wilhelm Hansen Fonden, Toyota Fonden, Sonning Fonden, Statens Kunstfonds Musikudvalg, Københavns Kommunes Musikudvalg, Frederiksberg Kommunes Musikudvalg
PARTNERS: Danmarks Radio, KoncertKirken, Trinitatis Kirke, Frederiksberg Kirke, Early Monday, LiteraturHaus, Musikmuseet, Nordic Network for Early Opera
NETWORKS: REMA, NORDEM