Dato/tid
30.06.2023
20:30 – 21:30
Sted
KoncertKirken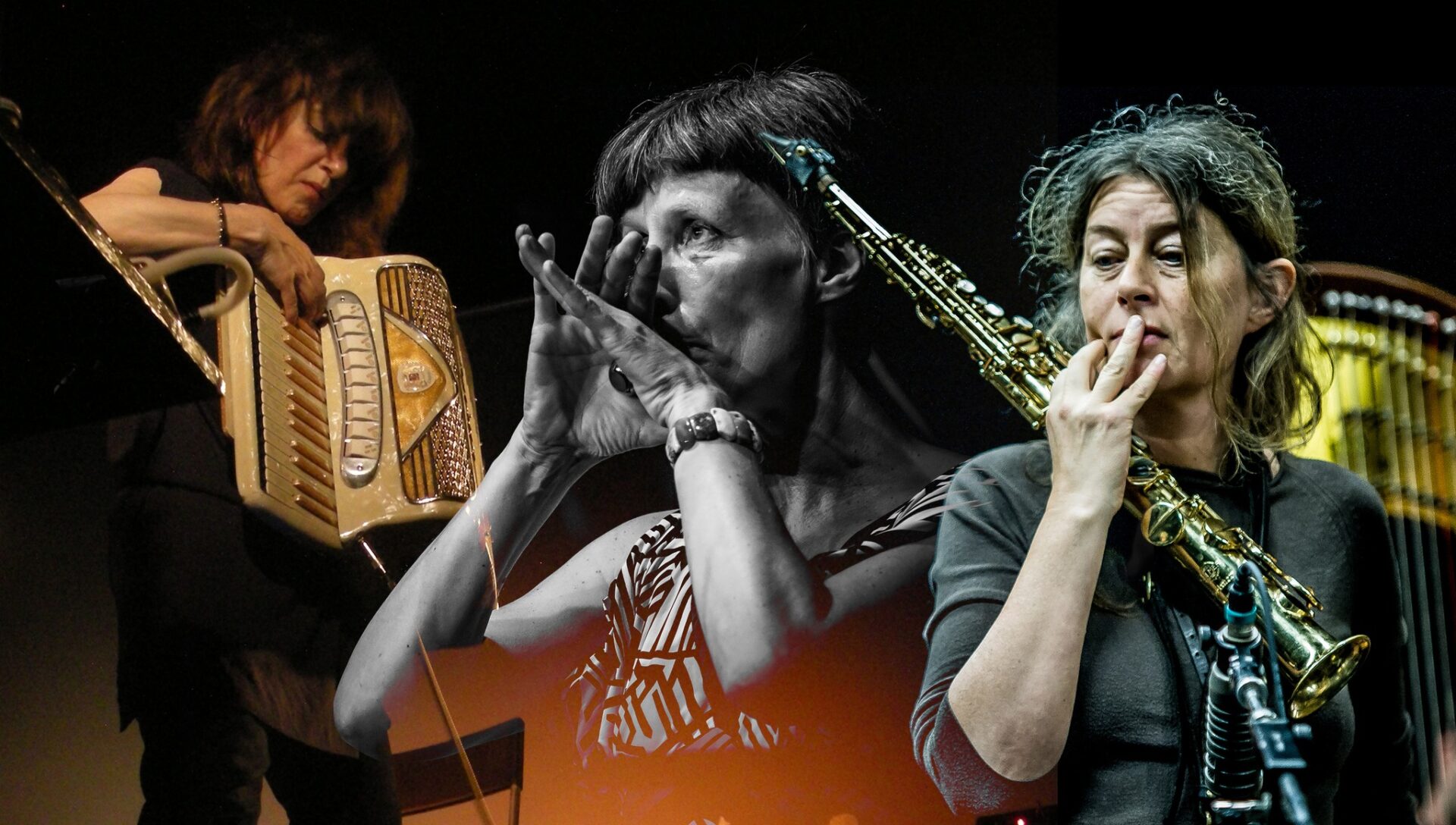 CPH JAZZ FESTIVAL @ KONCERTKIRKEN 2023
Ute Wassermann – vocal, objects
Lotte Anker – saxophones
Andrea Parkins – accordion, electronics
_________________________________________________________
Wassermann, Anker & Parkins is a trio established in 2018 (on hold from 2020 until now) consisting of three highly prominent musicians/composers on the European experimental music and sound art scene.
W, A & P explore sound in fluid electroacoustic fields of gestures and tension, creating both disturbing, strange and beautiful adventurous sonic worlds. Adventurous and transcendent music.
Ute Wassermann, voice artist, composer, improvisor is known for her extraordinary, many-voiced and extreme vocal sound-language, which she brings into experimental/contemporary music in diverse ways. Wassermann is engaged in the areas of composition, improvisation and performance / sound art: she takes the voice beyond itself, extends her voice using bird whistles, speaker objects, resonators, field recordings, multi-channel- diffusion and light (with Michael Vorfeld). Numerous performances in festivals, galleries and clubs throughout Europe, Australia, Mexico, Brazil and Asia. Performances with different bands and ad hoc with musicians like Phil Minton, Thomas Lehn, Martin Blume, John Russel, Raed Yassin, Mazen Kerbaj, Michael Vorfeld, Andrea Neumann, Sabine Ercklentz and many others. Recent commissions for compositions by Ryogoku Art Festival, University of Amsterdam, Poetica Sonora / Mexico City, Transart Festival and Festival Eclat. She has received several grants like a residency at the Civitella Ranieri Foundation in 2015.
https://en.wikipedia.org/wiki/Ute_Wassermann
https://soundcloud.com/utewassermann
Andrea Parkins is a sound artist, composer and electroacoustic performer engaging with interactive electronics as both material and process. Described as a "sound-ist of protean talent" by critic Steve Smith, she is known for her pioneering gestural/textural approach on her electronically processed accordion, and investigation of embodiment and chance with her amplified object and self-designed virtual sound-processing instruments. Her projects include performances, multi-diffusion sound installations; electronic music compositions; and sound design for contemporary dance, film and intermedia performance. Parkins' work has been presented at the Whitney Museum of American Art, Experimental Intermedia, Issue Project Room, Kunsthalle Basel, Musée d'Art Moderne et Contemporain (Strasbourg), NEXT (Bratislava), and many more. She performs as a solo artist and has collaborated with Tony Buck, Magda Mayas, The Necks, Nels Cline, George E. Lewis, and contemporary dance theatre director Vera Mantero, among others. Parkins' recordings are released by Important Records, Atavistic, Henceforth, Confront, and Creative Sources. http://www.andreaparkins.com
Lotte Anker is a Copenhagen-based saxophonist/composer working in the field between improvisation, experimental jazz and contemporary music. Her music includes melodic (often twisted or fragmented) elements, sonic explorations and textural material and covers a wide territory from minimal, transparency to dense and dark expressionism. Initiator of several highly acclaimed collaborations and groups. In recent years eg: Anker, Taborn, Cleaver, Lotte Anker & Fred Frith, What River Ensemble, Sub Habitat (w/ Mazen Kerbaj, Andrea Neumann, Sten Sandell, Katt Hernandez, Nina de Heney, Burkhard Beins). Performances/workshops in Europe, USA, Canada, Russia, Asia, Africa and the Middle East. Collaborations with Ikue Mori, Thomas Lehn, Okkyung Lee, Paal Nilssen-Love, Magda Mayas, Tony Buck, Joelle Leandre, Raymond Strid, Christof Kurzmann, Chris Corzano, Evan Parker and many others. Commissions for Huddersfield Contemporary Musicfestival, Gong Tomorrow, Donaueschingen New Music Festival/SWR, Ensemble Modern, Kitchen Orchestra ao.
http://www.lotteanker.com
_________________________________________________________
Entré: 120 DKK / Studerende: 60 DKK
2 koncerter samme aften: 180 DKK / Studerende: 90 DKK
3 koncerter samme aften: 240 DKK / Studerende: 120 DKK
Døren åbner 30 min før hver koncert.
_________________________________________________________
Copenhagen Jazz Festival @ KoncertKirken støttes af Statens Kunstfond, Københavns Kommune, William Demant Fonden, Augustinus Fonden, Koda Kultur m.fl.