Dato/tid
12.07.2019
19:00 – 21:00
Sted
KoncertKirken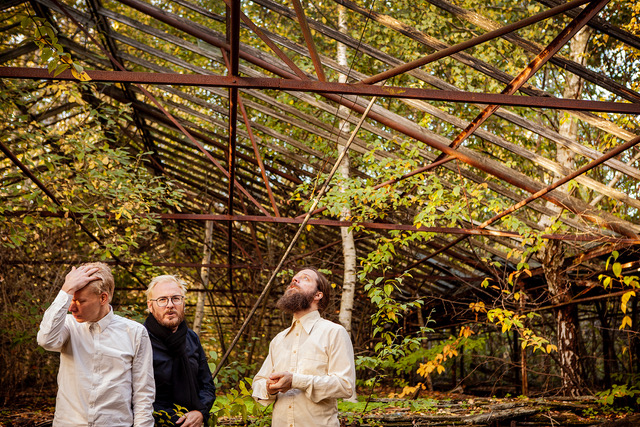 Copenhagen Jazz Festival 2019
SIMON TOLDAM TRIO
OMHU – the fourth album by Simon Toldam Trio is sonic explorations of slowness, and is recorded in the beautiful acoustics of Sendesaal, Bremen, Germany. The music is reflections on time and space, elements that is in high demand these days. OMHU is a danish word meaning: being precise, careful and conscientious in the execution, treatment, or care of something. The new music of Simon Toldam Trio is omhu.
SIMON TOLDAM TRIO has existed for 9 years, and is one of the most acclaimed and versatile trios from Denmark. Whether parading or drifting, noising or silencing, the interplay between these three displays their uncanny ability to beat and blow as one organism.
Simon Toldam Trio´s debut-album "Sunshine Sunshine or Green as Grass" was proclaimed as a masterpiece from several jazz critics (and nominated as "Album of the year" – Danish Music Awards Jazz), and since then the trio continued their musical path with the grammy-nominated duology LOOK UP, consisting of LOOK UP 14 (from 2014) & LOOK UP 15. Now OMHU is released, yet another take on the art of piano-trio.
"Simon Toldam … one of the most impressive figures on the bustling Scandinavian improvised music scene". – Peter Margasak, DownBeat
"Together these three musicians have created their own sound, their own way of seing and hearing." – Jakob Bækgaard, All About Jazz
Simon Toldam is one of Scandinavia's most exciting and acclaimed musicians. He has received four Danish Jazz Grammys, is a member of the remarkable Danish jazz/contemporary label ILK. He has released 14 CDs as leader/coleader. Receiver of the prestigious 3-year grant from The Danish Arts foundation 2015. In addition to leading Simon Toldam Trio and Simon Toldam Orkester STORK, Toldam is a member of Dutch drum legend Han Bennink's trio, which has released three celebrated. Additionally, he's collaborated with Axel Dörner, Yasuhiro Yoshgaki, Chris Speed, Marc Ducret, Evan Parker, Peter Brötzmann Eivind Aarset, Nils-Petter Molvær, Marilyn Mazur, Tristan Honsinger, Dave Douglas,, Jakob Bro ao.
Copenhagen Jazz Festival @ KoncertKirken er støttet af Statens Kunstfond, Københavns Kommune, Knud Højgaards Fond, Oticon Fonden, Dansk Musiker Forbund, Nørrebro Lokaludvalg.