Dato/tid
09.07.2019
20:00 – 21:00
Sted
KoncertKirken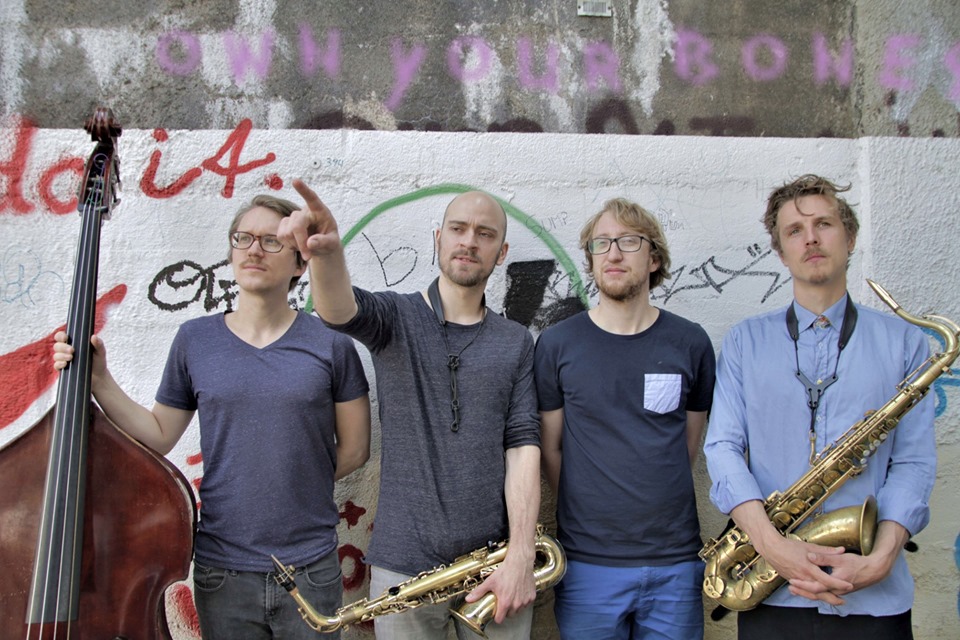 Copenhagen Jazz Festival 2019
OWN YOUR BONES (DE/LV/CH)
Jonas Engel (DE) – alto sax
Karlis Auzins (LV) – tenor sax
David Helm (DE) – double bass
Dominik Mahnig (CH) – drums
"From the first minute, the exceptional imposed itself : a sound, a flow, a musicality that carried me away." – Franck Bergerot, Jazz Magazine
OWN YOUR BONES released their new album in 2018 at the label of the renowened german Jazz collective KLAENG (www.klaengrecords.de/de/cds/jonas-engel-own-your-bones-cd.html) and are presenting the music live throughout Europe after being awarded with the Grand Prix d'Avignon: www.jazzmagazine.com/quartette-allemand-own-your-bones-remporte-tremplin-jazz-davignon/
– Non-Harmony-Instrument-Modern-Creative-Krach-Jazz –
OWN YOUR BONES provides space for racket, lyricism, research, home, air and saliva. Space for the utterly sound unfolding of two horns, strings and drums without clutching any concepts of music, just their own uncompromised bones. The band is a clash of the cities of Cologne and Copenhagen and their jazz and improvised scenes. This exact collaboration itself is pretty fresh but their joint work in other situations led naturally to this band and this sound.
The long list of awards of the band's protagonists alone speaks for itself, like: New German Jazz Award, Grand Prix d'Avignon, Maastricht Jazz Award, Young German Jazz Award, Munich Jazz Award, International Zeeland Jazz Award, Werner Richard – Dr. Carl Dörcken Stiftung, Ujazz Award, Mechelen Jazzcontest, ZKB Jazz Award, Jazz scholarship of the city of Cologne,…
Video: https://youtu.be/LYw-TaYHiqQ
Album: https://klaengrecords.de/de/cds/jonas-engel-own-your-bones-cd.html
TICKETS: 100 DKK / STUD: 50 DKK
Copenhagen Jazz Festival @ KoncertKirken er støttet af Statens Kunstfond, Københavns Kommune, Knud Højgaards Fond, Oticon Fonden, Dansk Musiker Forbund, Nørrebro Lokaludvalg.