Dato/tid
05.07.2019
16:00 – 18:00
Sted
KoncertKirken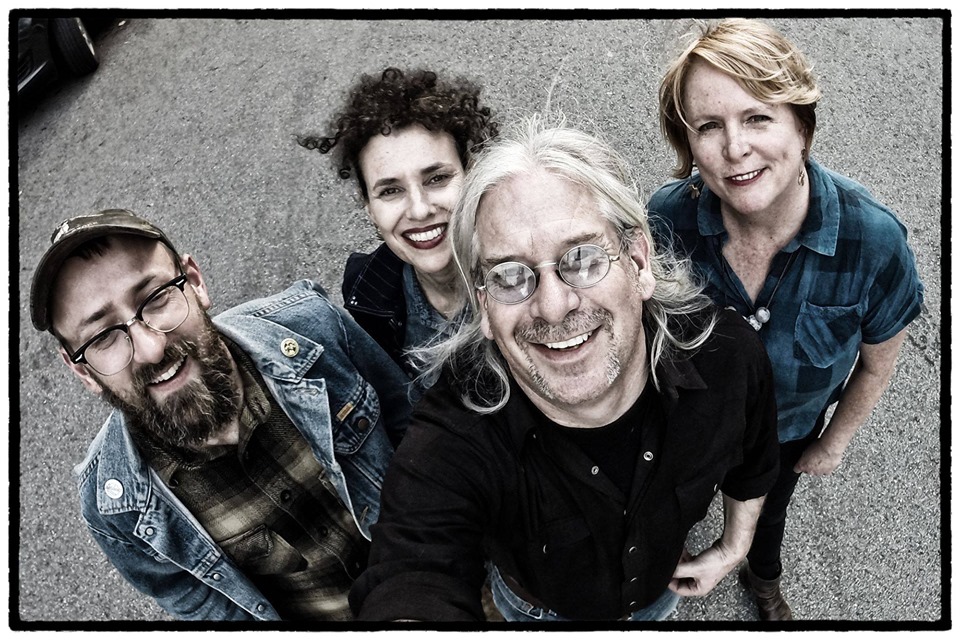 Copehagen Jazz Festival 2019
Skillet Licorice (US)
Elise Engelberg (fiddle, banjo)
Matt Knoth (banjo, guitar, vocals)
Mike Lewinski (banjo, fiddle, vocals)
Kelly Marie Martin (vocals, bass)
Aaron Ohwell (clarinet, violin)
Skillet Licorice is the latest project from San Francisco Bay Area roots-music luminaries Elise Engelberg and Matt Knoth. Essentially a musical consortium, Matt & Elise are the core of an All-Star lineup featuring LA's own Kelly Marie Martin and square-dance legend Mike Lewinski. The result is a full fledged proto-swing orchestra capable of expert musicianship in a dizzying array of folk genres. Whether they're playing hot fiddle breakdowns, slinky blues, sparkling banjo breaks, ragtime or dreamy waltzes Skillet Licorice displays an impressive command of styles and techniques that comes from deep study and loving dedication to America's folk traditions. With the help of their talented friends they've put together an incredible repertoire that is essentially traditional, yet with a modern approach that is anything but a stale. Skillet Licorice is hot, sweet, and just a bit greasy!
Elise Engelberg (fiddle, banjo) a Kentucky native, got her start in music as a classical violinist. After moving to California, she rediscovered her bluegrass roots and began learning to play the fiddle. Since then, she has became a sought after fiddler in the Bay Area old time scene. Elise has recorded with the Crooked Jades, is a founding member of The Mercury Dimes and has toured with the Stairwell Sisters. Her love for teaching young children has afforded her a thriving music studio in San Francisco.
Matt Knoth (banjo, guitar, vocals) Matt Knoth comes from San Jose, CA where he grew up playing and listening to bluegrass with his father, KFAT Radio Legend Cuzin Al. In addition to the 5 string banjo, Matt is a well respected old-timey guitarist and founding member of the rocking old-time group, The Mercury Dimes, and has shared the stage with Peter Rowan, Danny Elfmann and Chris Thile. When not performing as a blazing hillbilly star, you can find Knoth in the Marin Headlands pursuing his love of nature photography.
Mike Lewinski (banjo, fiddle, vocals) did not grow up down south, and his grand pappy never played the fiddle. Mother never sang the mountain ballads to send him to sleep, and square dancing is not an old family tradition. This suburban born skater-kid got into old-time after he aged out of punk – and since square dances are the perfect place to hear old time music live, Mike started regularly attending square dances, until it broke up his relationship, sent him to grad-school classes hung over, and Suzy Thompson started referring to him as "Mike-Swing Your F@#king Partner – Lewinski. True Story.
Kelly Marie Martin (vocals, bass) is based in Los Angeles, where she sings and plays guitar and upright bass with LA's favorite old-time quintet Echo Mountain. Kelly was a crucial part of fomenting a "squarevolution" in LA with trio Triple Chicken Foot, hosting a monthly jam and square dance that continue, along with founding annual festival the Los Angeles Old Time Social, now in its fourteenth year. Triple Chicken Foot produced 3 albums and were featured on NPR and in the Los Angeles Times. In 2017, she released her first solo album of original songs and sound interludes, The Last Kind Word.
Aaron Olwell is a multi-instrumentalist who's background spans from traditional Irish music to American old-time and early New Orleans jazz. He also works with his father making 19th c. style wood flutes that are sought by some of the best musicians around the world. He spends his time in central Virginia where the family business is based, and New Orleans, and will go just about anywhere to find a good jam.
UDENDØRS KONCERT – GRATIS ADGANG
Copenhagen Jazz Festival @ KoncertKirken er støttet af Statens Kunstfond, Københavns Kommune, Knud Højgaards Fond, Oticon Fonden, Dansk Musiker Forbund, Nørrebro Lokaludvalg.