Dato/tid
10.05.2015
20:00 – 21:00
Sted
KoncertKirken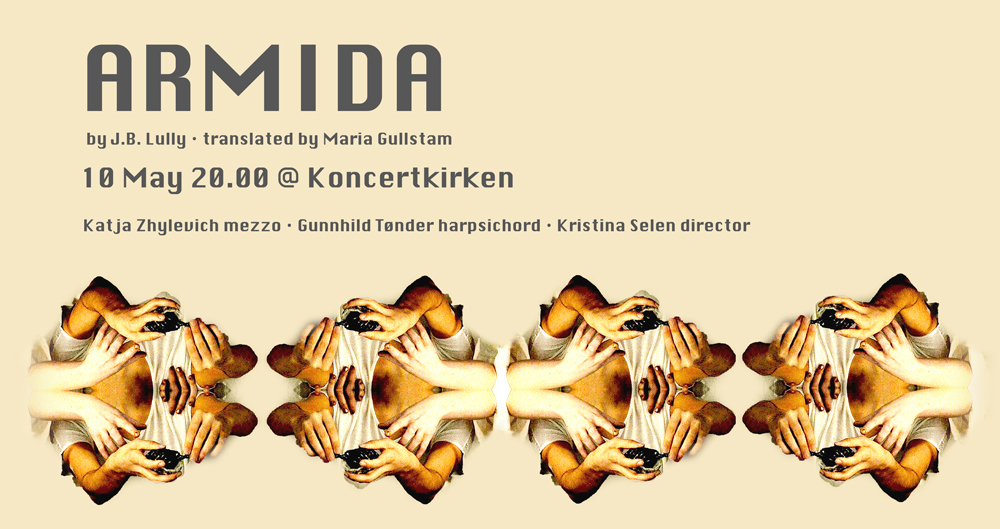 ARMIDA
ARMIDA is an intimate and intense chamber version of Lully's opera, scaled down to meet the heroine in her own garden. In our staging, Armida is surrounded only by vegetation, and her own thoughts. We look under her skin, and follow her experiences of love, womanhood and fate. As a mighty queen, she holds the fates of other humans in her hands – yet she is powerless confronted with her own love for the warrior Renaud. As she tries to make sense of her situation, she fights with questions of fate, suffering, and unrequited love. Alone in the garden, we meet her open and honest, as she swings between the extremes of love and revenge, pride and humiliation, vulnerability and fortitude.
Katja Zhylevich – mezzosoprano
Gunnhild Tønder – harpsichord
Kristina Selen – director
Translation: Maria Gullstam.
Tickets: 80 dkk / stud: 50 dkk.
The performance is part of European Opera Days
– – –
Kristina Selen is a young artist, educated at the University of Oxford, New College (2009-2012) and at the Junior Academy of Music, Stockholm. Her work as a stage director includes Vivaldi's Ottone in villa (2012) and Humperdinck's Hansel and Gretel (2013) for Opera Studio Oxford, Bang bang! My baby shot me down for Kulturfyren (2014), and scenes from Wagner's Tristan und Isolde (2014). She has also worked as assistant director for the Nordic Network for Early Opera, at Drottningholm Court Theatre and at Teatro la Fenice. In 2015, her collection of tales CODEX PARADISI will be premiered on stage (in April, for the Culture Night in Stockholm), and in the autumn she will present her own work Spiritual Exercises, an installation for video and organ.
She has been the recipient of scholarships from Deutscher Akademischer Austausch Dienst (DAAD), from Helge Ax:son Johnsons stiftelse and the Swedish Royal Academy of Music for her Tristan und Isolde project, and from Anders Sandrews stiftelse to fund her studies in Oxford. In 2013 she was awarded the young director grant from the Friends' Association of the Drottningholm Court Theatre.
Katja Zhylevich is a young mezzo-soprano who works actively to develop the art of opera further through different alternative projects. She has studied linguistics and music in her home city Minsk, Belarus. After moving to Sweden in 2006, Katja continued to study language theory before she decided to focus fully on music. She has done one year at the Royal College of Music before continuing at the University College of Opera in Stockholm.
In 2010 she made a double debut, first at Folkoperan in Stockholm, and three months later at Drottningholms Slottsteater. In the summer of 2011 she performed her second Mozart role at Drottningholm, Dorabella, in a new production of Così fan tutte. In the autumn of 2012 Katja made her international debut in England, in a new production of Humperdinck's "Hansel and Gretel".
Katja performs regularly at concerts and festivals. She has given a number of solo performances at Drottningholm. One of the most noticeable was in March 2012 when she performed for Their Majesties the King and Queen of Sweden, and Their Royal Highnesses The Prince of Wales and The Duchess of Cornwall. In June 2013, for the second year running, she performed at the festival "Omodernt" in Stockholm alongside artists such as Anne Sofie von Otter, Angela Hewitt and others. Later on she has made a series of concerts with the Royal Festivals in Stockholm and will be for the first time performing with them in Brussels in April 2015.
Katja has also presented her own one-woman show "Bang bang my baby shot me down" in a collaboration with young artists from Stockholm which had premiere in June 2013. 2014 Katja produced and performed in a series of concerts with an alternative programme, including pieces of modern composers and her own compositions.
Katja has received a number of musical awards, including scholarships from the Royal Swedish Academy of Music, the Anders Sandrews and Ingemansson Foundations, the Anders Wall Foundation, the Friends of Drottningholms Slottsteater and The Pamela Brady Todd Memorial Fund.
The Norwegian harpsichordist Gunnhild Tønder was born in 1978, and is emerging as one of the most promising Nordic harpsichordists. Studying solo piano and harpsichord at the Grieg Academy in Bergen and the Sibelius Aademy in Helsinki, she completed her masters degree in solo harpsichord and chamber music at the Royal Danish Academy of Music with Lars Ulrik Mortensen. Recently she has been working as a continue player with orchestras like Orchestre Les Siecles, NorrlandsOperan, Trondheim Symfoniorkester, Danish Radio Chamber Orchestra, Copenhagen Phil, Eslövs Kammarorkester, Stockholms Barocksällskap, Camerata Øresund, Concerto Copenhagen, Athelas Sinfonietta, Stavanger Barokk, Opera Australia and many more.
Gunnhild also works as musical assistent, repetiteur and continuo player for Nordic Network for Early Opera, and has participated in production of Monteverdis l'Orfeo & The Coronation of Poppea, Cavallis Apollo & Dafne and Cavallieris Rappresentatione di Anima e di Corpo.(2007-2014) In 2010 Gunnhild recorded sonatas for recorder and continuo by Castrucci & Geminiani, with Pernille Petersen and baroque cellist Thomas Pitt, which they later that year performed a selection of at the Greenwich International Early Music Festival.
With Saraband Consort she has been touring in the UK, Spain and Croatia, and is performing through out Scandinavia as a chamber musician and soloist with various ensembles and
singers. Gunnhild is one of the leaders of Danish based ensemble La Lumiere du Nord, and is performing in Denmark and Sweden frequently both as a soloist and chamber musician.
She is also frequently working as accompanist and teacher in early music at the Royal
Danish Academy of Music and the Opera Academy at the Danish Royal Opera.
She has also worked as accompanist in master classes with Laurence Cummings, Michael Chance, Ton Koopman, Rainer Zipperling, Jill Feldman, Wieland Kuijken, Carlos Mena, Mireille de Lunch, Deda Cristina Colonna, Paolo Pandolfo, Richard Gwilt and Peter Holtslag.