Dato/tid
28.04.2017
20:00 – 22:00
Sted
KoncertKirken
Middelalder + Jazz = Sandt? Ja!
De to genre har nok mere til fælles end hvad man umiddelbart skulle kunne tro. Vi vil i hvert fald vove pelsen og prøve at lokke nye publikummer til ved at kombinere middelalderspecialisterne Agnethe Christensen og Elizabeth Gavers Hildegard von Bingen-program, med det unge svenske jazzband Farvel med vokalisten Isabel Sörling i spidsen! Velkommen til en anderledes, smuk, sprudlende og overraskende aften under hvælvingerne!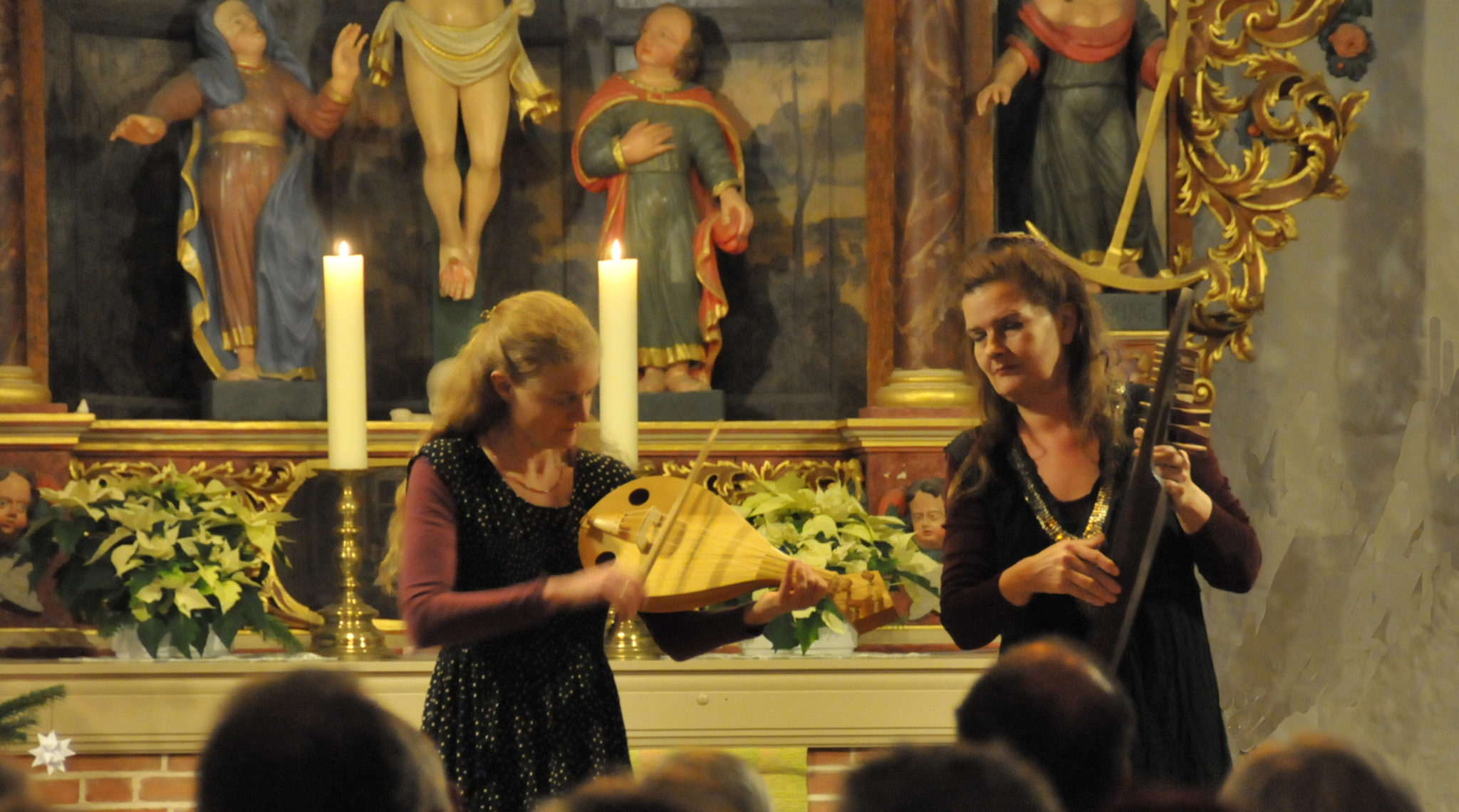 20.00 O Viridissima Virga
– en meditations-koncert med musik af Hildegard von Bingen
Agnethe Christensen – sang, gusli, kantele & klokker
Elizabeth Gaver – middelalderfidel, rebec & sang
Hildegard von Bingen (1098-1179) was a Benedictine abbess, prolific writer, and composer. Her writings included texts about theology, natural science, and health, as well as letters, songs, and poems. She also dictated images from her visions that were realised as miniature illuminations  in the for the Scivias.  Hildegard composed seventy-seven liturgical songs including antiphons, responsorials, hymns and sequences that were collected in a cycle titled Symphonia armoniae celestial revelation. Hildegard wrote both the poetic texts and the often highly melismatic and descriptive melodies.
The concert program O Viridissima Virga – a meditation concert is focused on the life force expressed through viriditas or "greenness". The images of new life in leaves and blossoms are used to convey the blossoming of life through the Virgin Mary. In addition to the songs of Hildegard, the program includes instrumental pieces composed by Elizabeth Gaver during her work with the medieval ensemble Sequentia. These are reflections on Hildegard's texts, some meditative and others lively dances, constructed with motives from the songs' melodies.
Agnethe Christensen and Elizabeth Gaver have collaborated on several musical projects. With the Swedish trio, Ulv, they recorded Ljus i Mörket (2015) and performed the program on the Johannesklang concert series in January 2016. They perform together in the project Laude Illustre combining Italian 14th c. Laude with video projections of Scandinavian church frescoes. In addition, they recently premiered a concert titled Sankt Staffan including music from several genres reflecting on the life of the saint. They both have extensive experience performing the music of Hildegard von Bingen, Agnethe with her ensemble, Alba, and Elizabeth with the international medieval ensemble Sequentia, directed by Benjamin Bagby, with whom she has recorded several CDs.
Farvel (previously Isabel Sörling Farvel) is by many described as one of the most important voices on the Scandinavian jazz scene. With their unconditional way of combining improvisation with composed music and lyrics – and within this way of working
expanding forms in ways rarely heard before, they really stand out as ambassadors of the new jazz generation.
Their latest album RÖK was released by Bugge Wesseltofts on Jazzland Recordings, the home of Atomic, Sidsel Endresen, Jon Balke and many more.
Farvel started out in 2010 by winning the Young Nordic
Jazz Comets competition and since then they've been
rewarded with Swedish National Radio's prestigious prize:
'The Jazz Cat – Newcomer of the year 2012'. They've been
broadcasted live in radio a countless of times and have
been playing live throughout all of Europe.
Otis Sandsjö — tenor saxophone, clarinet
Alfred Lorinius — double bass